Oily Fish May Mend Your Broken Heart
Oily fish may help keep your heart in tip-top shape.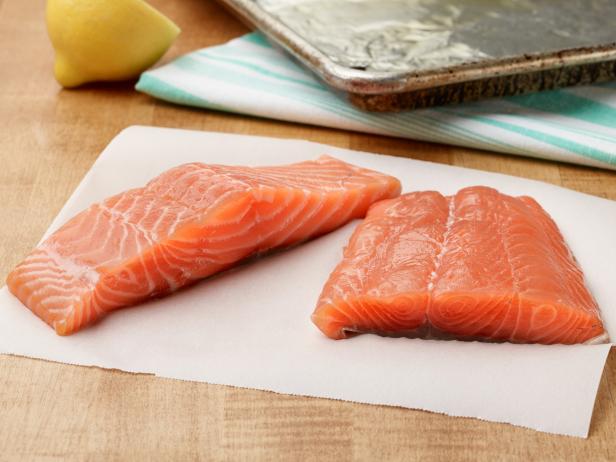 FNK_SimpleLemonHerbRoastedSalmon_Tip_RawFillets_H
Chef Name: Food Network Kitchen Full Recipe Name: Simple Lemon-Herb Roasted Salmon Talent Recipe: FNK Recipe: Food Networks Kitchen's Simple Lemon-Herb Roasted Salmon, as seen on Foodnetwork.com Project: Foodnetwork.com, FN Essentials/Weeknights/Fall/Holidays Show Name: Food Network / Cooking Channel: Food Network
Renee Comet, 2013, Television Food Network, G.P. All Rights Reserved
University of Reading researchers have found that oily fish may not only help keep your heart in tip-top shape by reducing the risk of cardiovascular disease, but these omega-3-rich fish perhaps fix already damaged blood vessels faster. Essentially, their findings would mean fish oil mends a broken heart, quite literally.
"Omega-3 fatty acids are found in oily fish," explains Lisa Sasson, clinical associate professor of nutrition and food studies at New York University. Cold-water fish have the highest amounts. Your best bet for getting fish oil in your diet is eating fish rich in omega-3s twice per week. "If you don't eat fish, you're probably not getting the recommended [amount]," Sasson says. "It's hard to get the omega-3 from other food."
What's tops on the list of oily fish? Sasson recommends tuna, salmon, mackerel and sardines, for starters. "They are especially good choices," she says. If you're not able to cook fresh fish or just need something to transport in your lunch bag, go for the canned variety. "Canned salmon is a great way to get omega-3s, as it's usually wild and inexpensive," Sasson says.
Omega-3 fatty acids contain many other beneficial properties, though there is a little more research to be done. Sasson reports that eating fish rich in omega-3s may also prevent stroke and serve as an anti-inflammatory to ward off many diseases, like Crohn's disease. "It's part of the brain development, and that's why fish is considered brain food," she adds. Recent research has also pointed to omega-3 fatty acids slowing the advancement of dementia and Alzheimer's.
"You want to try to obtain them from your diet and not rely on supplements, but don't overdo it. Some fish may be high in certain contaminants," Sasson says. When shopping for canned tuna, pick the "light" variety, which has lower levels of mercury. "The bigger the fish, the more of a predator, the higher the PCB and mercury levels," explains Sasson. "We're looking for bottom feeders that eat plant food."
One way to think about it: Find fish that are essentially on the lower end of the food chain. Wild fish are best, as they eat algae and plant food, which is better than farm-raised fish. Not only will you be protecting and repairing any damage of blood vessels in your heart by eating fish high in omega-3s, you'll also be getting needed protein in your diet.
Kiri Tannenbaum is a graduate of Le Cordon Bleu Paris and holds an M.A. in food studies from New York University where she is currently an adjunct professor. When her schedule allows, she leads culinary walking tours in New York City and is currently at work on her first book.