6 Tips for Less-Stress Family Dinners
Feeding a family is tough. Feeding a family with not only different taste buds but different restrictions — medical, ethical and more — is an uber challenge!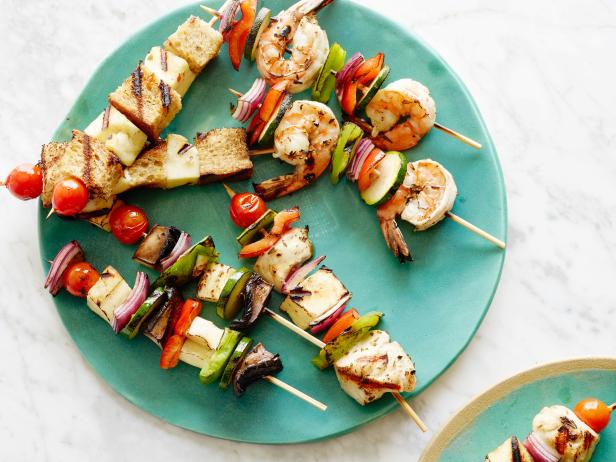 MAKE YOUR OWN KEBABS Keri Glassman The Food Network Blogpost Recipes/Mom and Dad with Specific "Diets" How Does That Affect Family Food Network Olive Oil, Lemon Juice, Rosemary, Thyme, Crushed Red Pepper, Sea Salt, Garlic, Chicken Breast, Whole Grain Bread, Portobello Mushrooms, Shrimp, Zucchini, Green and Red Bell Pepper, Red Onion, Cherry Tomatoes, Halloumi Cheese
Matt Armendariz, 2014, Television Food Network, G.P. All Rights Reserved
Is there anything better than an evening around an energetic table with friends, loud chatter and home-cooked grub? I do love hitting a new hot spot, but an old-fashioned potluck is truly the way I love to roll most. Recently I was in charge of bringing apps and dessert and was reminded that the dad-host is a lactose-intolerant paleo eater and the mom-host is gluten-free. Rex helped me prep veggies and we made mini kebab-on-toothpick appetizers and a pile of crudites with guacamole. Maizy whipped up five-ingredient coconut bites and a fruit salad. We showed up with our pile of eats and had quite the memorable eve. Only, we'll remember it more for the stress and complicated menu, not the snarf that kid-host let out when Maizy told everyone at the table why the chicken crossed the road.
My friend had spent most of the day before menu planning and was in the kitchen fighting it out for hours before we showed up. Responsible for the entree part of the meal, she'd made a paleo salmon recipe, gluten-free stuffed peppers, a lactose-free double-roasted sweet potato dish, and mac and cheese for the kiddies. There were stacks of dishes in the sink, the stovetop looked like a chem lab, and my friend was opening, closing, poking and smelling. One of her kids kept asking, "Can Daddy eat that?" And the other kid quizzed my kids on the ingredients in the guac. When I finally cornered my frazzled friend over a much-needed nightcap, she confessed that feeding her family with all of the different restrictions had become tougher than childbirth.
I told her she wasn't alone. I see this all the time — or at least three times a week. I have clients with food allergies, religious food restrictions, varying degrees of vegetarianism, diet-of-the-moment followers, picky eaters and athletes — all with different goals — in the same household at the same time. Could I offer her some tips? I sure could and did.
Stress less. Unless there is a risk of serious medical damage or anaphylaxis, which is a severe allergic reaction, try not to be so extreme with your way of eating that it causes stress. Do the best you can, as much of the time as possible. You do not "fail" or "ruin your diet" if you eat something you are trying to steer clear of.
Have a plan. Decide what you are going to say when you don't want to eat anything at a party because there's only pizza, chicken wings and fried foods. "I'm sticking to seltzer tonight," "I'm doing a long run in the morning" and "I don't care for anything at the moment" are all good choices.
Remember K.I.S.S., as in Keep It Simple Stupid? Come up with a list of five to seven proteins that work for everyone, then do the same for fruits, veggies and grains. Use these for family meals. Search for recipes by those ingredients, and make yourself a little cookbook of favorites so you don't forget what works for you — or are forced to reinvent the wheel every time you go grocery shopping.
Use color-coding. I'm not joking. Buy a handful of colored elastic bands and assign a color to represent what is safe for each of your eaters. Strap the elastic bands around prepared foods to help identify what family members can eat. Maybe the three-bean salad gets a green elastic band (for the vegetarian) and a pink one (for the gluten-free eater). Maybe the beef and barley soup gets a yellow band (paleo) and a white band (lactose free). Does this take an extra minute of your time? Sure. Is it worth it? Absolutely.
Perfection is boring. Don't try to make the perfect meal for everyone. So many of us think we need a starch, protein and vegetables to make a well-rounded dinner. Not true! You can have a dinner that is just protein and veggies (a grass-fed beef burger, salad and asparagus). You can have a dinner that is a starch, a fat and vegetables (a sweet potato with coconut butter and spinach). There are no absolute rules here! Make one or two things that work for most of you, then supplement with foods that don't require labor. Your vegetarian can eat the salad and asparagus for dinner. Add some nuts or a spoonful of hummus if you want to make it more substantial. Your gluten-free eater may want to add a little quinoa salad left over from the night before. Making a little extra of whatever you're cooking is a good way to have more choices on hand and create happy customers at your dinner table.
Do it yourself. I'm a huge fan of recipes that lend themselves to customization. Soups are a great example! Make a vegetable stew with a do-it-yourself topping bar that includes ground meat, chopped eggs, sour cream, avocado, quinoa and beans. Have a skewer bar where people can make their own kebabs. A burger bar works great here, too, if you go with a veggie, salmon, and a beef or turkey burger and all the fixins. These work great when you're entertaining, and they seriously ease the stress.
Try this kebab recipe. Since you're slicing and dicing your ingredients anyway, kebabs are easy to customize for each eater's style. Leave the shrimp off of the skewer for the diner with a shellfish allergy. Skip the bread for the paleo. You get the idea. Better yet, make it a party and let diners skewer their own (it's less work for you and more fun for them!).
Keri Glassman is the founder and president of Keri Glassman, Nutritious Life and The Nutrition School. She is a contributing editor and advisory board member for Women's Health Magazine, the Health and Wellness partner for JW Marriott, was Lead Nutritionist for Turner's health and wellness entertainment brand, upwave and the Nutritionist and Judge on the healthy cooking competition show, "Cook Your Ass Off". She has authored four books and is regularly featured on The Today Show, Good Morning America, and Access Hollywood Live.
Busy schedules don't have to mean relying on fattening or pricey take-out dinners. In fact, hectic days are an even better reason to stay energized with balanced, healthy and delicious meals. Eating smart doesn't have to break the bank – here are 5 dinner ideas to prove it.
Yes, you really can meal prep nearly everything on your Turkey Day menu!
One mom speaks the truth.