Nutrition News: What Kind of Vegan Are You, Eggs and Diabetes, Brain Benefits of Leafy Greens
Ethical vegans persevere, eggs lower Type 2 diabetes risk, and leafy greens defer dementia.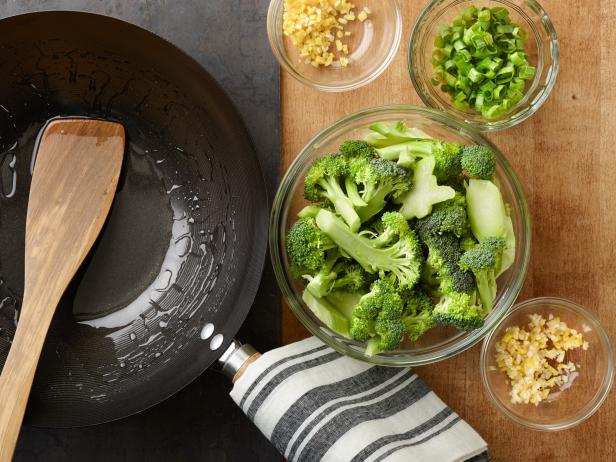 FNK_SimpleBroccoliStirFry_Tip_HotPan_H
Chef Name: Food Network Kitchen Full Recipe Name: Simple Broccoli Stir-fry Talent Recipe: FNK Recipe: Food Networks Kitchen's Simple Broccoli Stir-fry, as seen on Foodnetwork.com Project: Foodnetwork.com, FN Essentials/Weeknights/Fall/Holidays Show Name: Food Network / Cooking Channel: Food Network
Renee Comet, 2013, Television Food Network, G.P. All Rights Reserved
Which kind of vegan do you think is more likely to stick to the diet: those who eschew animal products for ethical reasons or those who do it for health reasons? Ticktock … ticktock … Time's up! The answer is ethical vegans. According to a study recently published in the journal Appetite and cited by Time, people who are vegans for ethical reasons follow the diet for about eight years, on average, and are also more likely to eat soy and vitamin supplements. Those who go vegan for health reasons, by contrast, stick to the diet for about five-and-a-half years, but they do eat more fruits and fewer sweets than ethical vegans.
Egg-cellent news about all those eggs you've scarfed down these last few weeks: Eating four eggs per week can lower your risk for Type 2 diabetes by more than one-third and can reduce your blood sugar levels as well, according to a new study conducted by the University of Eastern Finland. Researchers found that men who ate four eggs per week had a 37 percent lower risk of Type 2 diabetes than those who ate just one egg per week. Eating more than four eggs per week, however, didn't offer further benefits. Omelet, anyone?
Eat your greens! Just one daily serving of leafy goodness could help you stave off dementia, a new study suggests. According to researchers at Rush University Medical Center in Chicago, older adults who eat one or two servings of leafy greens like spinach, kale, collards or mustard greens each day showed signs of slower mental deterioration than those who didn't eat them at all. In fact, the study participants — 81 years old, on average — who consumed their daily leafy greens were found to have the mental capacity of people a decade younger. Nutrients like vitamin K may be responsible for the brain-boosting benefits of the verdant veggies.