The Skinny on 6 Popular Diets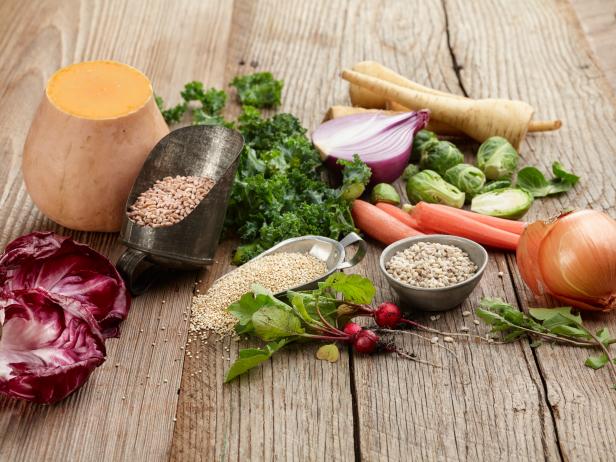 Opener_RootsGreensandGrains_H
Chef Name: Tyler Florence, Food Network Kitchens, Bobby Flay, Sunny Anderson, Giada De Laurentiis, Guy Fieri, Ree Drummond, Melissa d'Arabian, Full Recipe Name: Warm Wilted Winter Greens, Barley Risotto with Roasted Winter Vegetables, Warm Lentil Salad with Roasted Beets and Goat Cheese, Sunny's Sweet 'n Sour Garden Collards, Oven-Roasted Root Vegetables, Quinoa Pilaf, Farro with Cheese and Herbs, Shaved Brussels Sprout and Kale Slaw with Pecorino and Toasted Hazelnuts, Butternut Squash and Kale Stir Fry, Roasted Radishes and Carrots, Sunny's Sweet 'n Sour Garden Collards Talent Recipe: FNK Recipe: Project: Foodnetwork.com, Back to School/Sandwich Central/Dinner and a Movie/Sides Show Name: Tyler's Ultimate, Boy Meets Grill, Cooking for Real, Giada at Home, Guy's Big Bite, The Pioneer Woman, Ten Dollar Dinners, Food Network / Cooking Channel: Food Network
Renee Comet, 2013, Television Food Network, G.P. All Rights Reserved
Chef Name: Tyler Florence, Food Network Kitchens, Bobby Flay, Sunny Anderson, Giada De Laurentiis, Guy Fieri, Ree Drummond, Melissa d'Arabian, Full Recipe Name: Warm Wilted Winter Greens, Barley Risotto with Roasted Winter Vegetables, Warm Lentil Salad with Roasted Beets and Goat Cheese, Sunny's Sweet 'n Sour Garden Collards, Oven-Roasted Root Vegetables, Quinoa Pilaf, Farro with Cheese and Herbs, Shaved Brussels Sprout and Kale Slaw with Pecorino and Toasted Hazelnuts, Butternut Squash and Kale Stir Fry, Roasted Radishes and Carrots, Sunny's Sweet 'n Sour Garden Collards Talent Recipe: FNK Recipe: Project: Foodnetwork.com, Back to School/Sandwich Central/Dinner and a Movie/Sides Show Name: Tyler's Ultimate, Boy Meets Grill, Cooking for Real, Giada at Home, Guy's Big Bite, The Pioneer Woman, Ten Dollar Dinners, Food Network / Cooking Channel: Food Network
Warm weather is setting in, and many folks are hoping to slim down before slipping into their teeny teeny-weeny bikinis. But before giving a popular diet a whirl, find out if it's right for you.
Mediterranean Diet
This plan is inspired by life in Mediterranean countries surrounded by the ocean. The diet calls for eating fish at least twice a week, consuming minimal red meat, and using lots of fresh herbs and spices. It also emphasizes exercise and the importance of enjoying your meal with the company of family and friends. Here are 15 Mediterranean Diet-inspired recipes you can try.
U.S. News & World Report ranked this diet as No. 4 out of 38 as best overall diet. The recommended foods are healthy and well-balanced. But given that there are numerous versions of the Mediterranean diet, be sure to find one that includes all the food groups and isn't too restrictive.
Dukan Diet
On the Dukan Diet, you eat lots of lean protein, and must eliminate carbohydrates, including fruits and veggies at first. The plan has four phases; where phase 1 is most restrictive, allowing you to eat unlimited lean protein, 1 1/2 tablespoons of oat bran and 1 1/2 liters of water every day. Throughout the phases, you slowly add foods back in, like some vegetables and small amounts of fruit.
Diets like the Dukan, where you begin on a very restrictive regimen, will result in weight loss. That doesn't mean they're healthy. The National Institutes of Health recommends a rate of one to two pounds per week for safe weight loss. A more dramatic rate of weight loss can result in medical issues such as gall stones, muscle loss, and possibly a drop in blood pressure.
Atkins Diet
So many versions of Atkins have popped up over the years, but some die-hard fans still turn to this plan. The Atkins Diet has four phases, with the first being the most restrictive on carbohydrates. Over time, you increase other foods, specifically those that are heavier on carbohydrates, like starches and fruit. Cutting out most carbs for prolonged periods of time can result in side effects such as leg cramps, faintness, headaches, and cold sweats. And no matter how many times the book tells you that's "normal," it most certainly is not.
Wheat Belly Diet
The author of this diet claims that due to over-breeding and modification over time, the whole whole-wheat grain has become unhealthy. He equates wheat and any processed foods made with wheat with opiate drugs. Besides wheat, the plan also eliminates or limits foods like fruit, starchy vegetables, whole grains, legumes, dried fruit, corn-starch and corn meal. Although this plan encourages whole foods, many entire food groups are drastically limited or eliminated, making it a dangerous and difficult plan to stick to over the long haul.
Gluten-Free Diet
This diet refers to folks who do not need to be gluten-free, yet choose to follow a gluten-free diet in order to lose weight. This means they eliminate any food or drink containing wheat, rye, or barley — and many of the nutrients found in these foods. But avoiding these foods won't necessarily guarantee weight loss. Many of the gluten-free processed foods found at the market are just as calorie-heavy (if not more so) than their gluten-filled counter parts.
DASH Diet
This diet has been ranked No. 1 as the best overall diet by U.S. News & World Report five years in a row! The diet plan includes all the food groups, including fruits, vegetables, whole grains, lean protein and low-fat dairy. High-calorie proteins, high-fat foods, and high-sugar foods are discouraged, while reducing your overall salt intake is encouraged.
The recipes on the DASH Diet are well-balanced and can absolutely be delicious. Here's a recipe for DASH Diet Black Bean and Beef Burgers with Salsa by Marla Heller, the New York Times best-selling author of The DASH Diet Action Plan, The DASH Diet Weight Loss Solution, The Everyday DASH Diet Cookbook and The DASH Diet Younger You.
Toby Amidor, MS, RD, CDN, is a registered dietitian and consultant who specializes in food safety and culinary nutrition. She is the author of The Greek Yogurt Kitchen: More Than 130 Delicious, Healthy Recipes for Every Meal of the Day.