Eat These Foods for a Healthier Day
Incorporate these four foods into your daily diet for big health benefits.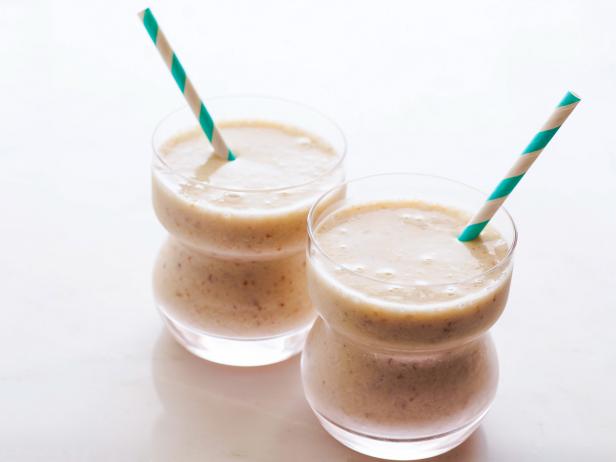 BANANA AND WALNUT SMOOTHIE, Giada De Laurentiis, Giada at Home/FeelGoodFood,Food Network, Unsweetened Almond Milk, Coconut Water, Walnut Pieces, Dried Dates,Banana,BANANA AND WALNUT SMOOTHIE, Giada De Laurentiis, Giada at Home/FeelGood Food, Food Network, Unsweetened Almond Milk, Coconut Water, Walnut Pieces, Dried Dates, Banana
Matt Armendariz, 2014, Television Food Network, G.P. All Rights Reserved
If you eat for good health, you're not alone: Almost all consumers — 96 percent — recently surveyed by the International Food & Information Council Foundation said they seek out health benefits from the foods and drinks they take in. The top benefits they're after: weight loss, cardiovascular health, energy, and digestive health. Despite this, only 45 percent of the people surveyed could identify a single food or nutrient associated with these health perks! That's why we've put together some foods that can help your health, plus ideas for eating them.
This power food is great for weight loss and weight maintenance. "So many dieters give up on grains, but the truth is whole grains — such as oats, quinoa, brown rice, and whole-grain breads — are wonderful choices when it comes to weight loss," says Samantha Cassetty, MS, RD, head of nutrition at Next Jump, a company helping to build better workplace culture. People who ate whole grains, compared to people who avoided them, were less likely to be overweight or obese in a recent study in Nutrients. "Separate research found that people who swapped whole grains for their refined cousins burned close to 100 more calories per day," Cassetty adds. "There are also studies that show whole grains are linked to lower body fat, including stubborn belly fat. Those are weight loss benefits I can get behind!" Use quinoa or brown rice as a stir-fry base, or try a Mexican Brown Rice Salad.
Here's a food to eat for cardiovascular health. "This fatty fish provides healthy unsaturated fats shown to help lower total cholesterol and triglycerides, aka blood fat," says Toby Amidor, MS, RD, Healthy Eats contributor and author of The Healthy Meal Prep Cookbook. "Although many foods contain omega-3 fat, the EPA and DHA omega-3s found in salmon are most efficiently used by the body to help get the heart health benefits you want." Roast the fish, or whip up a Pan-Fried Salmon.
Coffee isn't the only thing you can consume to boost energy. "Pumpkin seeds are a natural energy booster," says Erin Palinski-Wade, RD, CDE, author of Belly Fat Diet For Dummies. "Rich in fiber, protein, and healthy fats, they help stabilize blood-sugar levels for consistent energy throughout the day." They also provide the mineral magnesium. "This may also help to fight against insomnia, which can allow you to start off your day feeling well rested," Palinski-Wade adds. Snack on a small handful of roasted pumpkin seeds, or make a Pumpkin Seed Dried Cherry Trail Mix.
Although you may not normally think of nuts as a digestive-health helper, they can be quite beneficial. Fiber helps to get things moving, and walnuts offer about 2 grams of fiber per 1-ounce serving. "Throw walnuts atop your leafy green salads to get a double dose of fiber and amp up the digestive health benefits," suggests Natalie Rizzo, MS, RD, a dietitian in the New York City area. Bonus: "Research suggests shat if you occasionally overindulge in saturated fat, eating the polyunsaturated fats found in walnuts can actually help you break down that fat quickly." This could help counteract any negative metabolic effects of the saturated fats. Add chopped walnuts to a Greek yogurt parfait or a bowl of oatmeal, or blend a Banana and Walnut Smoothie (pictured above).
Amy Gorin, MS, RDN, is a registered dietitian nutritionist and owner of Amy Gorin Nutrition in Jersey City, NJ. She's a regular contributor to many publications, including FoxNews.com, EverydayHealth.com, Shape.com, Runner's World, and more—as well as WeightWatchers.com, where she was a longtime editor. She also pens a recipe-focused blog, Amy's Eat List.