What a Dietitian Wants You to Know About Feeding a Healthy Family
Tip #1: Serve dessert first.
I'm a dietitian, but all four of my kids are still picky about several different foods. Despite being raised the same, the 7-year-old will eat veggies the 16-year-old won't touch, and three kids like fish, but one refuses it.
It's typical to have kids with varied food preferences. Still, it can be challenging to get a meal on the table. As a dietitian and a mom, here are my successful strategies for raising a household of (mostly) healthy eaters.
Dessert is always served at least once a day in our house. How do my kids know it's dessert? It's always sweet. And it's usually served in our small blue "dessert bowls." Often dessert is fruit with plain yogurt and a drizzle of honey. But sometimes it's ice cream or pie. Dessert is always served with the meal; this way, if kids choose to eat it first, they still have a chance to stop eating when they are full, even if it means eating less veggies.
Slice Up New Veggies for Hangry Times
A good time to serve new or less-liked vegetables is when kids are super hungry. These times are breakfast (get a few veggies in first thing), after school, or right before dinner as an "appetizer." When kids are really hungry, they'll often try vegetables they thought they didn't like.
This teaches two important lessons: satiety and make-your-own-meal skills. Kids learn how much they need to eat to make it to lunch without getting hungry. My teen makes a latte of mostly milk, plus some coffee, and grabs a fruit with a breakfast bar or breakfast biscuits on the way out the door. My pre-teen son preps a giant bowl of plain quick oats mixed with two huge spoonfuls of peanut butter and sliced banana. The other two elementary-aged kids choose boxed cereal nearly every day; our cereal "rule" is a whole grain cereal with less than 6 grams of total sugar (usually Cheerios) as a base, topped with a sprinkle of sweet cereal like Frosted Mini Wheats, Golden Grahams, or Cinnamon Toast Crunch (all have "whole grain" as the first ingredient).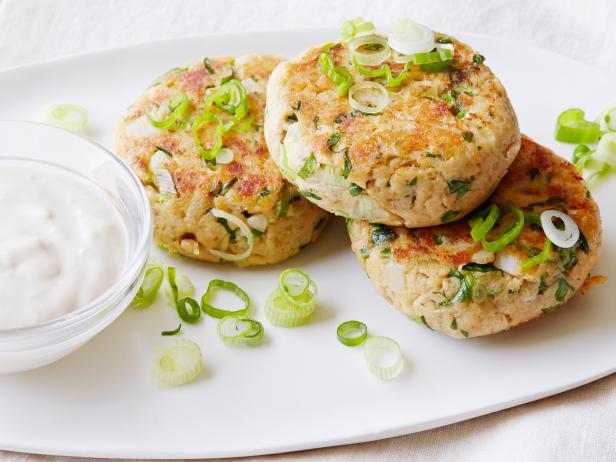 SALMON CAKES WITH CREAMY GINGER SESAME SAUCE, Ellie Krieger, Healthy Appetitewith Ellie Krieger/Meals Deals, Food Network, Whole-wheat Sandwich Bread, CannedSalmon, Eggs, Scallions, Water Chestnuts, Cilantro, Olive Oil, Plain Yogurt, Mayonnaise,Ginger, Sesame Oil, Soy Sauce,SALMON CAKES WITH CREAMY GINGER SESAME SAUCE, Ellie Krieger, Healthy Appetite with Ellie Krieger/Meals Deals, Food Network, Whole-wheat Sandwich Bread, Canned Salmon, Eggs, Scallions, Water Chestnuts, Cilantro, Olive Oil, Plain Yogurt, Mayonnaise, Ginger, Sesame Oil, Soy Sauce
Matt Armendariz, 2014, Television Food Network, G.P. All Rights Reserved
Plan for Fish Twice a Week
Once for lunch and once for dinner, that's my goal. Packaged tuna and crackers are always in my pantry for the kids to grab for their lunchboxes; kid-friendly flavored tuna packets are also on-hand, especially ranch dressing and tuna sandwich flavors. My teen grabs the tins of canned mackerel and sardines. And for dinner, we like familiar fish tacos, canned salmon burgers, and any frozen fish fillet cooked straight from frozen. (Well, most of us like fish!)
Eat One Fermented Food Daily
Kids with better gut health are usually sick less often. We try to eat at least one serving of kefir, yogurt, sourdough bread, or fermented vegetables daily.
Kids as young as two get more interested in trying new foods, and older children learn to follow a recipe. Since baking instructions are very precise, if kids can master these, they can eventually follow (almost) any recipe. This life-skill can set them up for a lifetime of healthful eating.\
Keep Hard-Boiled Eggs Around
Eggs contain several critical nutrients which are generally hard for kids to get adequate amounts, including choline, vitamin D, vitamin B12, and the antioxidants lutein and zeaxanthin that help reduce the risk of eye problems. Hard-boiled eggs are a portable and satisfying snack. For easy-peel eggs, steam them or make them in the pressure cooker.
Always Have Frozen Vegetables On-Hand
Younger children often find the uniform shape and size of frozen veggies easy and appealing to eat. As my kids grew, these are now some of the only veggies my kids will add to their own lunch boxes in the morning because the texture is just right by the time the frozen broccoli, cauliflower or peas thaw at lunchtime. When getting meals on the table, I love the convenience of no-prep, no-waste veggies that can be added to almost any dish including scrambled eggs, pasta, canned soup, frozen or boxed entrees, and even take-out dishes.