Off the Radar: 5 Spring Market Finds to Keep in Mind
Seeing the first glimpse of spring vegetables make their appearance at the farmer's market this month is a welcome change from winter's hearty abundance. While the usual suspects — bright pink radishes, tender asparagus spears, and bright green snap peas — are there, you'll also find more unexpected options like fiddleheads, ramps, morels and more.
While these vegetables aren't as common, don't be intimidated! Familiarize yourself with each of these unique spring market finds and ways you can use each in a fresh and flavorful spring recipe.
Fiddlehead ferns are the coiled tips of a young fern; deriving their name from the resemblance to the decorative end of a fiddle. This unique vegetable has a grassy, slight nutty flavor that's similar to asparagus. Try them lightly steamed or boiled, then finished with olive oil and lemon for a quick side dish. They can also be swapped into almost any cooked recipe that features asparagus or haricot verts.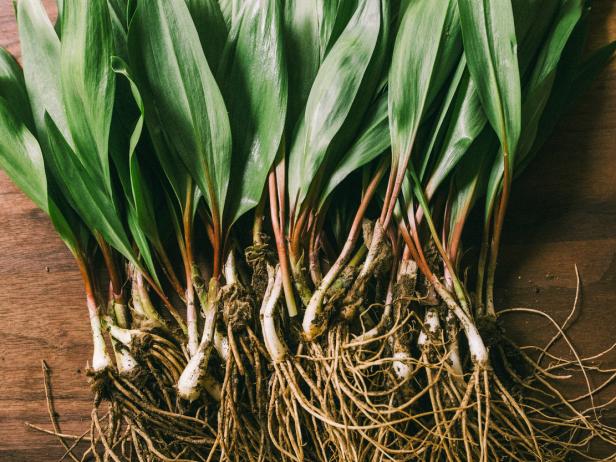 Ramps and Fried Potatoes
Enjoying almost cultlike popularity, ramps, or wild mountain leeks, are a seasonal delicacy that are like a cross between garlic and wild onions. Celebrated by locals and prized by some of the nation's top chefs — when they can get their hands on them — ramps pop up fleetingly and are often pickled by fans who want them year-round. Mountaineers flock to special ramp dinners each spring to enjoy them fried up with potatoes and sometimes ham, bacon and other pork products. Savor your first taste at the Feast of the Ramson in Richwood, known as the Granddaddy of Appalachian Ramp Feeds.
Also referred to as wild leeks, ramps are a member of the allium family along onion and garlic. This wild onion looks similar to a scallion but with larger, flat leaves. Ramps are more pungent than onion and garlic, but cooking them will mellow the flavor.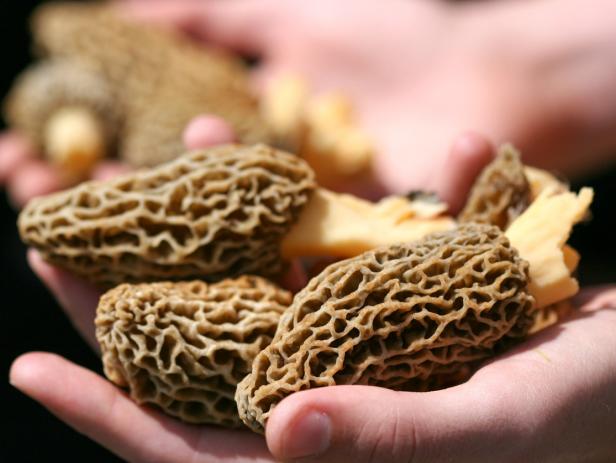 Morels (Molly Moochers)
Highly prized – and just as highly scarce – these mountain mushrooms peek out of the ground for only a few weeks each year. Chefs in the know snatch up as many as they can, using the morels' earthy essence to enhance pastas, sauces, soups and more. At The Forks Inn just outside Elkins, Chef Jon Eric Stalnaker features a cream of wild mushroom soup laced with morels picked that very morning along the banks of Shavers Fork. And with a resume running restaurants in Colorado, South Carolina, Paris and at West Virginia's own Greenbrier, Stalnaker knows just what to do with this sought-after mushroom.
Morels are a cone shaped mushrooms with a honeycomb texture and a nutty, deep earthy flavor. While morels may be harder to find in markets (if you aren't foraging for them yourself), they are worth seeking out for their unique taste and texture. As with other mushrooms, make sure they are free of debris and dirt by lightly brushing them with a dry pastry brush or kitchen towel before preparing.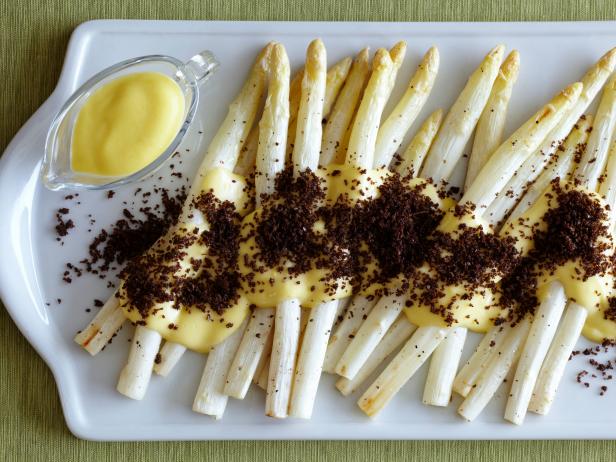 German Roasted White Asparagus
Matt Armendariz, 2012, Television Food Network, GP. All Rights Reserved.
This ghostly pale vegetable is actually the same plant as green asparagus, but is grown in conditions that block out the sunlight. Without natural light, the asparagus is unable to produced chlorophyll, hence the white instead of green color. Taste wise, white asparagus is slightly sweeter and has a less fibrous stalk than the traditional variety. White asparagus can be used in any dish that calls for asparagus, but use a vegetable peeler to remove the bitter outer coat before preparing.
Though sorrel is commonly regarded as an herb, it's actually part of the buckwheat family. This leafy spring vegetable has a tart citrus-like flavor, a cross between tarragon and a crisp apple. Young sorrel is less tart and can be served raw in salads, made into sauces or steamed as a side dish. More mature sorrel is a stronger flavor and works well in creamy soups, sauces or stews.
Alex Caspero MA, RD, RYT is a Registered Dietitian Nutritionist and Yoga Teacher. She is the founder of Delish Knowledge, a resource for healthy, whole-food vegetarian recipes. In her private coaching practice, she helps individuals find their "Happy Weight."
*This article was written and/or reviewed by an independent registered dietitian nutritionist.