School-Year Cookbooks for Kids
Healthy kid-friendly cookbooks to start the school year off right.
Now that you've got the schedule down and have stocked up on lunchbox goodies, it's time to get down and dirty in the kitchen. Finding healthy, tasty, kid-friendly meals isn't always as easy as it seems. Here are six healthy cookbooks geared toward children and family meals.
Registered dietitians and moms Liz Weiss and Janice Newell Bissex feature 150 simple, family-friendly recipes, plus 50 moms' secrets for getting your picky eater to try new foods. Each recipe in the cookbook was tested by moms and tasted by kiddos. Recipes including Piping-Hot Peanut Butter Soup, Fruity Chicken Kebabs, Twice Baked Super Spuds and Smiley Face Casserole. Price: $25
Certified chef and registered dietitian Michelle Dudash has nourishing meals the whole family will love. The recipes use simple, minimally processed ingredients that are easy to find at your local market. She also provides eco-friendly and seasonal eating tips to help keep your family and planet happy. Recipes include Hoisin Beef & Edamame Lettuce Wraps in a Hurry, Turkey Vegetable Pot Pie with Whole-Wheat Crust, and Oven-Fried Fish N' Chips with Lemon Yogurt Dip. Price: $20
Frances Largeman-Roth's cookbook focuses on the fact that most folks, young and old, don't eat enough fruits, vegetables and whole grains. The 90 simple, colorful recipes help brighten your plate and include Caramelized Red Onion and Fig Pizza, and Cran-Apple Tart Tatin. Simple instructions and nutrition information is provided for all the recipes. Price: $28
Healthy Eats contributor and mama of two Dana Angelo White is the author of this cookbook, which walks you through easy recipes from pureed first baby foods to simple meals for the entire family. The recipes are designed to foster healthy eating habits and help kids develop a love for delicious, wholesome food. Recipes include: Nut-Free Granola, Peanut Butter Spaghetti and Slow-Cooker Pulled Pork. Price: $15
Jenna Helwig walks you through making your own baby food without preservatives and gives you easy tips on how to cook in bulk. She shows you how to introduce your child to a variety of flavors, with 100 meals to help your little one start building a lifetime of healthy eating habits. Recipes include Gingered Carrots and Cauliflower, Turkey Meatloaf Bites and Honey-Roasted Chickpeas. Price: $17
This cookbook is perfect for when you hit that lunchbox slump. Registered dietitian and mother of three Katie Sullivan Morford walks you through easy ways to whip up a lunch your kiddos will love. Recipes include Easy Cheesy Thermos Beans, Pesto Pita Pizza and Parmesan Kale Chips. Price: $25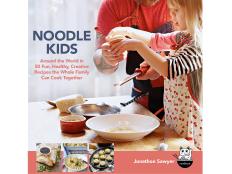 Chef Jonathan Sawyer is getting kids to explore their taste buds beyond the normal macaroni, and he's sharing all his kid-friendly, healthful recipes in his new cookbook, Noodle Kids.