3 Salad Greens Recalls Have Been Issued — Time to Check Your Fridge
The affected products shouldn't be in grocery cases anymore, but they could be in your home.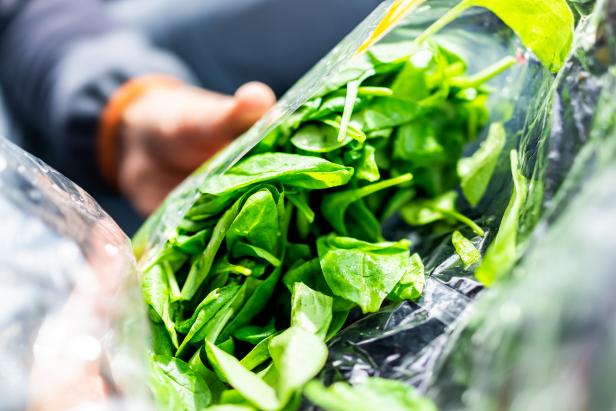 Baby Spinach
"One thing I always like to add to my smoothies is baby spinach as it's an easy way to get in greens (hello vitamins and minerals)," says Dixya Bhattarai, MS, RD/LD culinary dietitian at Food, Pleasure, and Health. "Spinach is really mild in flavor and texture compared to other greens so it tends to work well with most smoothies." Bhattarai's favorite is in a tropical green smoothie with frozen mango, pineapple, baby spinach, milk or yogurt, and flax meal.
By Leah Brickley for Food Network Kitchen
The FDA announced recalls for salad greens – mostly recently from Dole Fresh Vegetables – as well as Fresh Express, Simple Truth and Nature's Basket. Many bagged and boxed greens are affected, here is what you need to know.
It was announced on January 7th, 2022 that the company issued a voluntary recall of packaged salad greens — all containing iceberg lettuce potentially contaminated with Listeria monocytogenes. The bags were processed either in an Ohio- or California- based facility and distributed to several states across the country. The recall includes Dole-branded (will say Dole) and private-labeled (will be labeled as something other than Dole) bags that can be identified by product codes and Use-By dates: products processed in Ohio will have codes that begin with "W" and Best-If-Used-By dates between December 22nd, 2021 and January 9th, 2022 while all California-based products will have "B" at the beginning of the code and Best-If-Used-By dates of December 23rd, 2021 through January 8th, 2022. The codes and dates can be found on the upper right hand corner of each bag. All products should be thrown away. There have been no reported illnesses linked to the recall to date.
The company announced a recall on December 20th, 2021 of several bagged and boxed salad greens including labels that were branded (will say Fresh Express) and private (will be labeled as something other than Fresh Express) because of concerns of Listeria monocytogenes contamination. The salad greens were distributed throughout the Northeast and Midwest and the FDA has provided a full-list (including photos) of all the bags affected in the recall. Products will have either Z324 or Z350 labeled under the Use-By date on the front of the bag/box. If any of these products are in your fridge they should be thrown out immediately.
Simple Truth Organic Power Greens and Nature's Basket Organic Power Greens Recall
The CDC posted an outbreak warning of E. coli 0157:H7 on January 6th, 2022 linked to boxed salad greens sold in Washington, Oregon, Ohio and Alaska. The power greens have Use-By-Dates through December 20th, 2021, which means products will not be in grocery cases but could still be in home fridges. They were sold at Fred Meyer, QFC and Giant Eagle grocery chains and should be thrown away immediately.
Symptoms for Listeria monocytogenes may include high fever, severe headache, stiffness, nausea, abdominal pain and diarrhea. Pregnant persons, young children, eldery individuals and those who are immunocompromised are at most risk to experience severe complications.
E. coli 0157:H7 can be severe in young children, elderly individuals and those who are immunocompromised. Symptoms may include diarrhea (bloody in extreme cases), high fever, stomach cramps and vomiting.