Spotlight Recipe: Speedy Soup
Try this simple soup as a quick starter to a dinner party or an easy lunch.
I needed a quick-and-simple soup to serve as a first course for a recent dinner party. My gal Dana really came through with this one. Of course, being a vegetarian, I swapped the chicken broth for low-sodium vegetable broth, but all around, it was a satisfying -- and super easy -- start to a lovely meal. (In case you're wondering, I followed it up with a lighter, veggie lasagna and simple side salad.)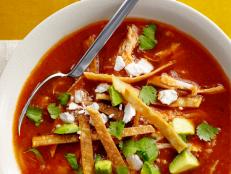 Stay warm all season with dozens of soups from Food Network Magazine.