It's National Soup Month!
Celebrate National Soup Month with a new recipe from some of your favorite Food Network chefs, featured in the latest issue of Food Network Magazine.
Celebrate National Soup Month by staying warm (and healthy!) with Food Network chefs' best low-cal soups, from the latest issue of Food Network Magazine.
Guy's carrot, ginger and potato soup (pictured above) has less than 200 calories per serving. Top with low-fat Greek yogurt and pine nuts for a creamy-crunchy combination.
Add a new soup to your go-to list. Full of chiles, peppers and shrimp, we guarantee you'll love this Spicy Shrimp Broth from Marcela Valladolid.
Emeril's take on the classic chicken soup has mint, lemon and red pepper flakes. Don't forget the cayenne pepper for an extra kick.
Ellie's lightened-up New! New England Clam Chowder is anything but boring. Canadian bacon gives it subtle smoky tones, while hot sauce takes the flavor to a whole new level.
What's your favorite soup?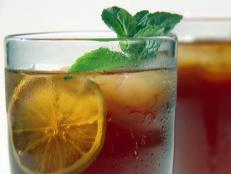 June is National Iced Tea Month -- so get out your tall glasses and ice cubs and celebrate the warm weather by pouring yourself a home-brewed glass of iced tea.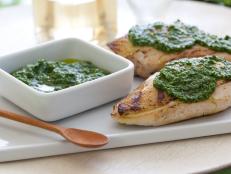 We've rounded up Food Network's favorite savory and sweet sauces, so that you can add finishing touches to your chicken, seafood and dessert dishes with ease.