How To Build A Healthy Salad
From choosing the greens to pouring the dressing, building a healthy salad requires planning. Select the ingredients carefully or you can end up with a 1,000+ calorie meal.
From choosing the greens to pouring the dressing, building a healthy salad requires some thought. Selecting the ingredients carefully or you can end up with a 1,000+ calorie meal.
Start from the bottom and work your way up to the dressing. First course of action: Select your greens. Good choices include romaine, spinach, or a combo of field greens. Keep in mind that iceberg lettuce contains fewer nutrients than darker greens, and build your salad on a plate or in a bowl -- stay away from the calorie-laden crunchy taco shell.
Choose several colorful veggies to top your salad like tomatoes, carrots, radishes, cucumbers and bell peppers. More colors mean a wider variety of nutrients. This is a great opportunity to use leftover veggies that are lingering in the fridge—and a perfect way to minimize food waste.
Whether you choose poultry, meat, fish and seafood, eggs, beans or tofu, select one lean protein, or smaller portions of several proteins. Avoid fried foods or toppings made with gobs of mayo (like some tuna salads). Keep portions to about 2-3 ounces, which will help contribute to your recommended daily amount of protein.
Nuts, seeds, dried fruit, shredded cheese, avocado and olives are all super tasty toppers, but choose carefully. Adding a small amount of several of these can skyrocket calories. Instead, choose ONE favorite and monitor the portion (about 2 tablespoons is a good rule of thumb). Remember, a little of one flavorful ingredient really goes a long way.
Stick to oil-based vinaigrette with healthy unsaturated fats. But even vinaigrettes can get you into trouble if you're not careful. Stick with 2 tablespoons and measure to make sure.
Creamy dressings like ranch, Russian and creamy Italian tend to have a much higher calorie count. If you're in the mood for these higher-calorie choices, make it an occasional treat and stick with 2 tablespoons max. You can also opt to make your own lighter creamy dressing. Use low fat buttermilk, light sour cream or nonfat Greek yogurt as the base to help maintain a rich texture without all the calories and fat.
Another favorite dressing choice is freshly squeezed lemon or lime wedges with a sprinkle of salt and pepper or a drizzle of extra virgin olive oil.
Packing a salad for work or on-the-go takes a little planning. To avoid a mushy salad pack ingredients separately (like the greens, cut up veggies, protein and dressing) then combine right before eating. Use re-sealable plastic bags or containers to do this. Keep everything cold by surrounding your salad goodies with ice packs then placing them in an insulated bag. Eat within 2 hours (1 hour if it's above 90 degrees out) or keep in your office refrigerator.
TELL US: What's your favorite way to build a healthy salad?
Toby Amidor, MS, RD, CDN, is a registered dietitian and consultant who specializes in food safety and culinary nutrition. See Toby's full bio »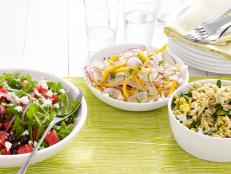 Toss together one of these fresh and easy combos from Food Network Magazine for your next party.