Recovery Foods: Post-Workout Recipes
Healthy post-workout recipes.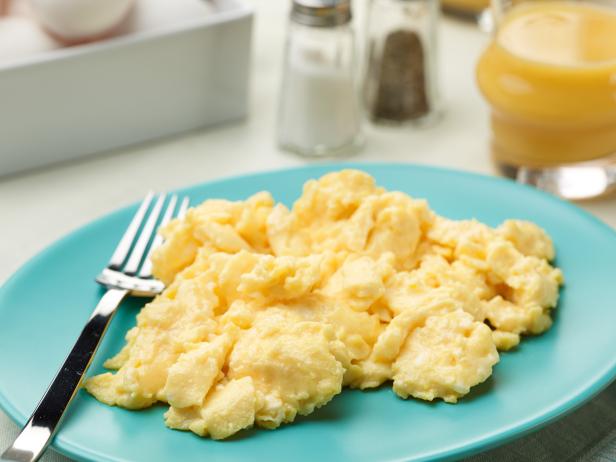 FNK_SimpleScrambledEggs_H
Chef Name: Food Network Kitchen Full Recipe Name: Simple Scrambled Eggs Talent Recipe: FNK Recipe: Food Networks Kitchen's Simple Scrambled Eggs, as seen on Foodnetwork.com Project: Foodnetwork.com, FN Essentials/Weeknights/Fall/Holidays Show Name: Food Network / Cooking Channel: Food Network
Renee Comet, 2013, Television Food Network, G.P. All Rights Reserved
Proper post-workout nutrition is vital to maintaining healthy muscles and a high-powered metabolism. Here are five recipes that will give you the proper balance of carbohydrates and protein (yes, you want both after being active) no matter what time of day you exercise.
If you work out first thing in the morning, don't skip breakfast! Have a light snack such as a banana, dry cereal or an English muffin with jam for fuel. Follow up with a recovery breakfast – eggs, whole-grain toast and a side of fruit.
If you opt for a midday exercise session, choose a lunch option with a 3:1 ratio of carbs to protein. This balance of nutrients is best to replenish energy stores and build muscle. Sandwiches and wraps are ideal picks.
If your typical exercise time is late afternoon or evening, make sure you top off the night with a power dinner. Choose lean meat or fish, along with a salad and a reasonable portion of a healthy whole grain like brown rice. This salmon recipe also offers omega-3 fats, which promote blood flow and help fight inflammation.
It's still important to prioritize your recovery if your exercise session doesn't finish around a standard meal time. Grab snacks like chocolate milk, Greek yogurt, smoothies, trail mix and homemade protein bars – all have a nice balance of nutrients (some also help replenish fluids).
Dana Angelo White, MS, RD, ATC, is a registered dietitian, certified athletic trainer and owner of Dana White Nutrition, Inc., which specializes in culinary and sports nutrition.