Picnic Salads, Lightened Up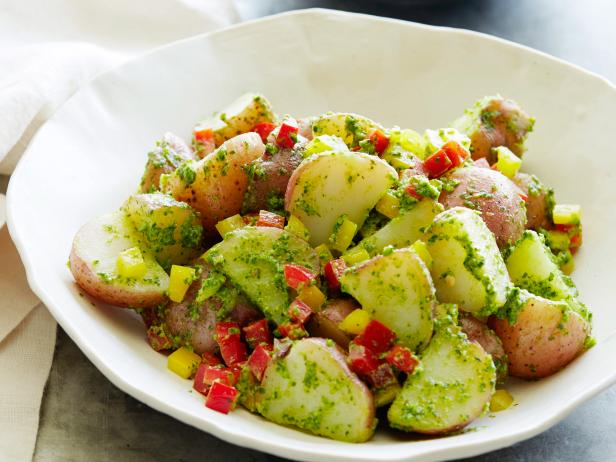 PESTO POTATO SALAD, Ellie Krieger, Healthy Appetite with Ellie Krieger/Cool Food, FoodNetwork, Small Red Potatoes, Yellow Pepper, Red Pepper, Basil Pesto, Pine Nuts, BasilLeaves, Parmesan, Lemon Juice, Olive Oil,PESTO POTATO SALAD, Ellie Krieger, Healthy Appetite with Ellie Krieger/Cool Food, FoodNetwork, Small Red Potatoes, Yellow Pepper, Red Pepper, Basil Pesto, Pine Nuts, BasilLeaves, Parmesan, Lemon Juice, Olive Oil
Matt Armendariz, 2014, Television Food Network, G.P. All Rights Reserved
Side salads are the opportunity to add lots of veggies, fruits and whole grains to your barbecue fare. However, many traditional side salads are drowning in mayo or oily dressings. Below are quick tricks to lighten up your favorite picnic salads, along with recipes you can try.
Pick up this classic summer side at your supermarket and each serving may contain more than 300 calories and 20 grams of fat. Many homemade versions call for at least one cup of mayo — with 920 calories and 80 grams per cup. And although potatoes are filled with potassium and other good-for-you nutrients, cooked spuds still contain 65 calories per half-cup.
Swap out some of the potatoes for nonstarchy veggies like parsnips or cauliflower.
Bulk up the salad with tomatoes, celery, peas, carrots and bell peppers for a variety of vitamins and nutrients.
Sub in a flavorful vinaigrette or pesto sauce for some of the mayo.
Heaps of pasta drowning in mayo or oil can sabotage any healthy eating plan. A half-cup portion of traditional pasta salad can rack up over 300 calories and 22 grams of fat. Most folks serve themselves three to four times the half-cup portion amount, causing the calorie count to skyrocket to 900 to 1,200 for a side salad.
Instead of mayo, use a combo of nonfat plain Greek yogurt and low-fat mayo.
Instead of using 1 cup of mayo, cut back to 1/4 cup (or 2 tablespoons each of Greek yogurt and low-fat mayo)
Bulk up the salad with tons of veggies like tomatoes, carrots, zucchini and cukes.
Use whole-grain pasta instead of white.
It's the same mayo-filled story with this well-liked salad. Most recipes call for at least a cup of mayo or oil. Even if you use a healthy oil, it's still 120 calories per tablespoon or 1,920 calories per cup!
Use a vinaigrette dressing or substitute nonfat plain Greek yogurt for half the mayo.
For an extra zing, add dried fruit like cranberries or raisins, or nuts or seeds like almonds, pecans or sesame seeds.
Add flavor with very low-calorie herbs like basil, parsley or tarragon.