7 Summer Dishes That Aren't Complete Without Basil
It's that time of year when basil is abundant everywhere we turn, from our own herb gardens to top restaurants' menus. We're finding the fragrant green leaves torn and mixed with salad greens, muddled at the bottom of highball glasses, blended into ice cream and pulsed with garlic, Parmesan and pine nuts until a fragrant pesto sauce comes into being.
Part of the beauty of this leafy summer herb is its approachability; in other words, you don't need to be a trained chef in order to dream up some creative takes on it. If you're like us and keep a fresh bundle in a vase on your countertop all season long, waiting for the perfect excuse to snip off a few leaves, then you just found a reason to celebrate. Here are seven in-season (and healthy!) dishes that just won't suffice without basil.
Swordfish is prized for its thickness and incredibly steaklike texture, but unfortunately, it runs the risk of coming out dry, even after a brief sear on the grill. Earthy basil and bright, tangy lemon do wonders to perk up swordfish's meaty flavor and revitalize the steaks with moisture. It's a flavor pairing Giada takes full advantage of in her Grilled Swordfish with Lemon, Mint and Basil recipe (pictured above).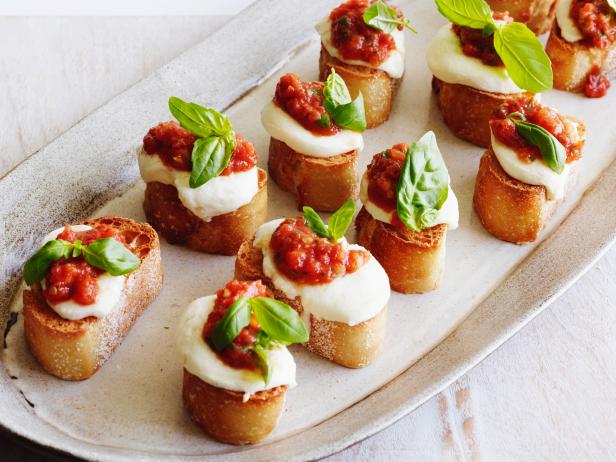 TOMATO, MOZZARELLA AND BASIL BRUSCHETTA, Giada De Laurentiis, EverydayItalian/Cocktail Party, Food Network, Whole Tomatoes, Basil, Olive Oil, Garlic, Baguettes,Mozzarella,TOMATO, MOZZARELLA AND BASIL BRUSCHETTA, Giada De Laurentiis, EverydayItalian/Cocktail Party, Food Network, Whole Tomatoes, Basil, Olive Oil, Garlic, Baguettes,Mozzarella
Matt Armendariz, 2014, Television Food Network, G.P. All Rights Reserved
In its purest form, this rustic summer appetizer consists of toasted baguette slices topped with an ample scoop of chopped tomatoes, garlic, onions and basil. A snack this simple is only as good as its ingredients, so splurge on the freshest produce you can find — especially the basil, which makes a gorgeous leafy topper for each neatly portioned bite in Giada De Laurentiis' Tomato, Mozzarella and Basil Bruschetta recipe.
If you've been treating basil as an optional element when preparing Caprese Salad, then you've been depriving yourself. This classic Italian starter of fresh mozzarella and juicy tomato slices begs for fresh-torn basil leaves — and don't forget the olive oil.
It may seem like an unlikely combination, but we're hard-pressed to find a better companion for sweet ricotta and balsamic-soaked strawberries than a sprinkle of fragrant basil, cut into ribbons. Not yet convinced? Try Ellie Krieger's Balsamic Strawberries with Ricotta Cream and we promise you'll see the light.
A meatball without sauce is like a cake without frosting, so don't even thinking about skipping the pesto when preparing these hearty Vegetarian Meatballs. For added nutrients, use a combination of basil and fresh spinach when making the earthy sauce in your food processor.
If you've been leaving basil out of your picnic salads, you've been making a huge mistake. Take a leaf out of Dave Lieberman'a book and give this Potato, Corn and Basil Salad a try. Few dishes capture summer like this hyper-seasonal mixture of fresh produce topped off with fresh basil leaves.
Yes, even a summer fruit salad can benefit from the addition of basil. The chefs in Food Network Kitchen took things one step further with this Tomato-Peach Salad with Basil, a dish of fresh summer peach and tomato slices over a smooth and refreshing basil puree. It comes together easily in a food processor; plus, the water from the leaves allows you to use less oil.