6 Lighter Ways to Cook and Bake with Apples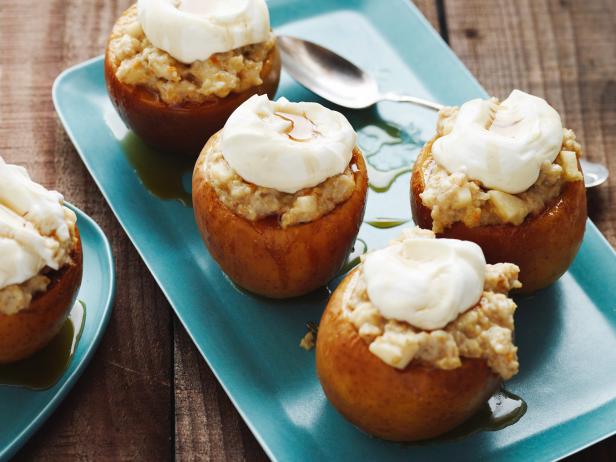 BAKED APPLE WITH OATMEAL AND YOGURT, Bobby Flay, Brunch @ Bobby's/Vermont Bedand Breakfast Style, Food Network, Apples, Lemon, Unsalted Butter, Light Brown MuscovadoSugar, Ground Cinnamon, Apple Cider, Whole Milk, Orange Zest, Quick-­Cooking-­Steel-­CutOatmeal, Low-­Fat Greek Yogurt,BAKED APPLE WITH OATMEAL AND YOGURT, Bobby Flay, Brunch @ Bobby's/Vermont Bedand Breakfast Style, Food Network, Apples, Lemon, Unsalted Butter, Light Brown MuscovadoSugar, Ground Cinnamon, Apple Cider, Whole Milk, Orange Zest, Quick-­Cooking-­Steel-­CutOatmeal, Low-­Fat Greek Yogurt
Matt Armendariz, 2014, Television Food Network, G.P. All Rights Reserved.
Ready your wicker baskets: It's apple-picking season. If you're planning a trip to your local orchard, you're probably already dreaming about the wonderfully sweet, tart and spicy dishes you can make once you get your apples home. Maybe they're destined for a rustic galette — or maybe you'll bake them whole with a medley of warming spices.
Of course, the butter and brown sugar used in many apple dishes are just as craveable as the fruit itself. But even if you're using the new season as an opportunity to get back into good eating habits, you don't have to miss out on this fun autumn pastime. With a few simple modifications, you can make your favorite apple dishes a healthy staple rather than a once-in-a-while indulgence. From firm and tart Granny Smiths to sweet and tender McIntoshes, here are six lighter ways to use your freshly picked apples this fall.
When it comes to baking apples whole, Bobby Flay opts for sweet Galas, which he dresses up with fragrant spices and light brown sugar. Top each one with high-fiber oatmeal, low-fat Greek yogurt and a drizzle of apple cider reduction.
Other recipes of its kin might call for heavy cream or half and half, but Ina Garten's hearty soup relies on little more than McIntosh apples, butternut squash, cider, olive oil and fragrant curry powder. The combination of the sweet apples and the nutty squash yields a well-balanced, lighter-than-average fall soup.
Add extra crunch to antioxidant-rich kale salad by tossing the leafy greens with matchstick-sized strips of sweet Honeycrisp apple, along with slivered almonds, dates and cheese. A little pecorino goes a long way in giving this nutritious salad a satisfying depth of flavor.
The key to turning these dense, apple-packed pancakes into an energy-boosting breakfast is to enjoy them in moderation. And you won't need more than one or two to curb your hunger, especially if you garnish with a handful of filling pecans. For efficiency's sake, make the sourdough starter the night before; that way, you can griddle the batter in minutes the next morning.
Easier than apple pie but every bit as American, crisps are a quick, delicious way to showcase fall fruit. And, by eliminating pie dough from the equation, you'll save yourself quite a few calories — enough to justify topping the crisps with a cool scoop of vanilla ice cream.
These cider-braised pork chops are quick enough for a casual weeknight dinner, but sophisticated enough for an elegant dinner party. The tender red onion and Granny Smith apples combine to form a perfectly balanced, sweet-tart topping for the chops.