How to Transform Summer Tomatoes into Comforting Fall Soups
Use September as an opportunity to finish the last of your summer tomatoes by blending them into these comforting and autumnal tomato soups.
The humidity has finally lifted and there's a brisk chill in the air, but that's not the only good news we're celebrating: Late-summer produce like tomatoes, zucchini and corn is still abundant at the farmers markets. From a culinary standpoint, this is what makes September so precious.
For the next few weeks, we'll be able to meld the light and delicate flavors of summer with the comforting style of autumnal cooking, which we generally see reserved for hearty root vegetables. And what better application for all of our perfectly ripened tomatoes than warm, freshly blended tomato soup? Whether you're serving it as a smooth transition between the hors d'oeuvres and the entree at an elegant dinner party or spooning it from a thermos after your first hike of the season, tomato soup is the most-logical solution to our current tomato surplus. So put gazpacho on the back burner (not literally), and reacquaint yourself with fall cooking via these versatile tomato soup recipes.
Now that it's finally cool enough to turn on your oven, get back into the rhythm of roasting with Melissa d'Arabian's Rich Roasted Tomato Soup. The recipe calls for little more than Roma tomatoes, olive oil, salt, pepper and garlic, and the rustic tastes of sauteed garlic and herbes de Provence are an excellent match for the tangy, caramelized Romas.
With its tender pastina and comforting tomato broth, it's easy to see why this high-fiber soup appeals to even the pickiest eaters. The trick to making this Quick-and-Spicy Tomato Soup effortless is to either buy your favorite store-bought marinara sauce or make your own and use the leftovers for the soup broth.
Peanuts and curry powder may not be ingredients you typically use to make tomato soup, but once you try Food Network Magazine's savory Tomato-Peanut Soup, you may never go back to regular tomato soup again.
Hosting a fall soiree? Serve this sophisticated take on the after-school classic. A blend of ripe tomatoes and whole basil leaves rejuvenates day-old Italian bread in Anne Burrell's satisfying Tuscan Tomato and Bread Soup.
This isn't technically a soup recipe, but we couldn't pass up an opportunity to mention this hearty Butternut Squash and Turkey Chili loaded with plum tomatoes that enhance its color, texture and vitamin content. Make this recipe during the few precious weeks in late September when tomatoes and butternut squash overlap.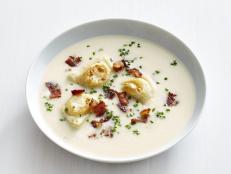 These bowls may look indulgent, but they've all got a good-for-you spin.