Health Benefits of Pumpkin Spice
Buried beneath the deluge of lattes, limited-edition snack foods and baked goods, the spice blend known as "pumpkin spice" has a nutritious foundation. And while it's wise — for the sake of your waistline — to back off on the pumpkin spice Frappuccinos, 'tis the season to take advantage of the health benefits of this ever-popular fall flavor combination.
Health Benefits
Different pumpkin spice blends may have variations, but the core blend usually includes ground cinnamon, nutmeg, ginger and allspice. Here are the health benefits of each.
Cinnamon
Rich in cell-protecting antioxidants and unmistakable warmth, cinnamon is the star ingredient of pumpkin spice. There is also some research to support that cinnamon may help diabetics better control blood sugar.
Nutmeg
Another warm fall spice, nutmeg boasts small amounts of fiber, numerous B vitamins and minerals.
Ginger
The star component of gingerbread, this spicy powder contains important minerals like iron, potassium and zinc. It may also help relieve minor digestive problems.
Allspice
Contrary to what the name suggests, this spice hails from a standalone fruit — a berry that is dried and ground into a fine brown powder. Allspice is used heavily in Jamaican cooking, and its pungent edge plays very nicely with pumpkin.
DIY Pumpkin Spice Blend
Makes about 1/2 cup
To really celebrate the holidays, try making a homemade spice blend. You can use it in baked goods, beverages, roasted vegetable dishes and more; it's even a great hostess gift for holiday celebrations. The addition of cardamom gives this blend another layer of natural sweetness.
Ingredients:
1/4 cup ground cinnamon
2 tablespoons ground ginger
1 tablespoon ground nutmeg
1 tablespoon ground cardamom
1 teaspoon ground allspice
1 teaspoon ground cloves
Directions:
Combine spices in a bowl and mix well. Store in an airtight container for up to 3 months
Per teaspoon: Calories 7; Fat 0 g (Saturated 0 g); Cholesterol 0 mg; Sodium 1 mg; Carbohydrate 2 g; Fiber 1 g; Sugars 0 g; Protein 0 g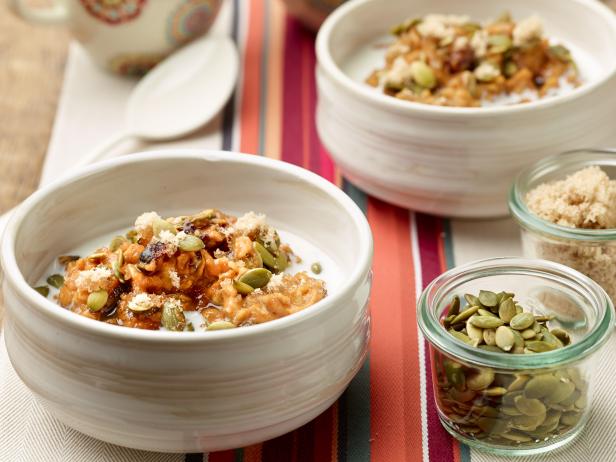 FNK_PumpkinSpiceOatmeal_H
Chef Name: Food Network Kitchen Full Recipe Name: Pumpkin Spice Oatmeal Talent Recipe: FNK Recipe: Food Networks Kitchen's Pumpkin Spice Oatmeal, as seen on Foodnetwork.com Project: Foodnetwork.com, FN Essentials/Weeknights/Fall/Holidays Show Name: Food Network / Cooking Channel: Food Network
Renee Comet, 2013, Television Food Network, G.P. All Rights Reserved
Chef Name: Food Network Kitchen Full Recipe Name: Pumpkin Spice Oatmeal Talent Recipe: FNK Recipe: Food Networks Kitchen's Pumpkin Spice Oatmeal, as seen on Foodnetwork.com Project: Foodnetwork.com, FN Essentials/Weeknights/Fall/Holidays Show Name: Food Network / Cooking Channel: Food Network