And what does it taste like?
By Layla Khoury-Hanold for Food Network Kitchen
Layla Khoury-Hanold is a contributor at Food Network.
Perhaps you've spied these diminutive citrus at the grocery store but never tried them. Whatever the case, you're in search of more info. Here, we dive into what a kumquat is, what it tastes like and how to cook with it.
This orange-colored, oval-shaped citrus is about the size of a grape or olive, has soft, sweet skin, slightly bitter flesh and sour juice. Kumquats are native to China and also known as the "cumquat" or "comquot" (which means "gold orange"). Kumquats grow on trees that can reach up to 15 feet high and their branches have glossy green leaves. In the U.S., kumquats are grown in California and Florida and are in season from January to June. There are two main kinds of kumquats: Nagami, the more common, oval variety, and Meiwa, which is slightly larger and rounder.
What Does a Kumquat Taste Like?
A kumquat tastes citrusy, with a sweet, tart and tangy flavor profile. Unlike other citrus, such as oranges or tangerines, kumquats have a thin, sweet skin without any bitterness and a sour pulp within.
"One tiny kumquat only has 13 calories, 1 gram of fiber and 14% of your daily vitamin C," says Dana Angelo White, M.S., R.D., A.T.C. "As with most fruits and veggies, the higher water content means they can help keep you hydrated. Kumquats also tout high amounts of vitamin C and other antioxidants which can help fight inflammation." She notes that kumquats also contain some vitamin A, potassium and folate, but that you'd have to eat quite a few of them to reap the benefits.
The standard serving size for fruit is 1 cup, which would average around 7 to 8 kumquats. But since kumquats are rich in fiber, you might want to try a smaller serving to ensure you don't have any side effects, such as gas, bloating or diarrhea. "Kumquats do have plentiful amounts of fiber—5 pieces total 6.5 grams of fiber which is 23% of the daily recommendation," Angelo White says. "They also contain magnesium which can have a laxative effect." She also notes that the acidity of the fruit may bother those prone to reflux.
How to Buy and Store Kumquats
When shopping for fresh kumquats, Angelo White recommends selecting ones that are firm and free of spots or blemishes. Kumquats' flavor is optimal when stored at room temperature, where they'll last for several days. You can also store kumquats in the refrigerator in a plastic bag for up to three weeks.
Kumquats can be eaten raw and whole, skin and all. The skin is the sweetest part of the fruit, while the flesh and juice within is sour. Kumquat seeds are edible although they are bitter, so you may prefer to remove them. Kumquats can also be sliced and eaten raw in fruit salads, like this Winter Fruit Salad (pictured above) with oranges, bananas, kiwi and mango.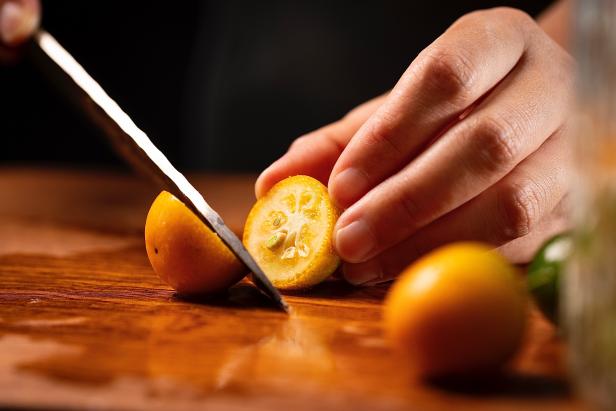 1401646439
Suitable for food production, beverage production, catering industry, culinary teaching, food ingredients, food processing, frozen food, nutritious diet, Japanese cuisine, Chinese cuisine, East Asian food, coffee, fruit drinks, cocktails, food preservation, cold chain logistics, print advertising.
How to Cook with Kumquats
Kumquats can be preserved, cooked or added to all manner of dishes, from chicken to cocktails. Here are a few ways to cook with kumquats.
Preserves: Because of their high pectin content, kumquats make excellent jams, marmalades and compotes.
Spread on toast, serve with a cheese board, or plate it with main dishes, like Anne Burrell's Seared Artic Char with Kumquat Compote. You can also try pickling kumquats or preserving them as you would lemons.
Salads: Sliced kumquats work especially well in fruit salads, but they're also great for brightening up savory-leaning salads, like this Arugula-Citrus Salad with Pork.
Roasts: Experiment with subbing in kumquats for other citrus in roasted protein recipes, say tucked into a whole roast chicken or roasted alongside pork or duck.
Pancakes & Pastries: Add chopped kumquats to pancakes, quick breads, cakes and pastries for a tangy-sweet burst of flavor.
Cordials & Cocktails: Kumquats make excellent cordials, like Valerie Bertinelli's Kumquat-Cello and add a sweet-sour tang to cocktails, as with this Kumquat Mojito. Sliced kumquats also make a pretty cocktail garnish.
Candy: Candied kumquats make an excellent addition to all manner of desserts, including as an ice cream topping or add-in, a garnish for panna cotta, or to infuse simple syrups destined for baking or after-dinner cocktails.