The Best Avocado Keepers, Tested by Food Network Kitchen
Keep in mind: Price and stock could change after publish date, and we may make money from these affiliate links.
Avocados have a notoriously short-lived sweet spot when they are perfectly ripe and ready to eat. If you're a lover of avocados, you probably know how frustrating it is to figure out what to do with that perfectly ripe but unused half. If not properly stored, it can quickly brown and go to waste. But, if you have the right avocado saver on hand, you might be able to extend its life for days — at least that's what a lot of the kitchen tools claim. We decided to put a few of the most popular avocado keepers to the test to see how well they work.
How We Tested
When selecting avocado savers to test for this review, we opted for the most popular savers on the Internet that were designed specifically for avocado or fruit/vegetable storage. We tried to include a range of materials in our savers, picking a few different silicone and plastic options. We made sure they all functioned a little differently, some encompassing the entire avocado while others just hugged the exposed part of the fruit.
When testing, we bought avocados from a local market, ensuring all avocados were at a similar stage of ripeness, and cut them in half. We placed each avocado half in an avocado keeper, stored them in the refrigerator and monitored their progress for seven days. We made a note of how quickly they browned and when they got to the point of being inedible. We also looked at the products themselves, and evaluated them based on whether or not they were dishwasher safe, how easy they would be to clean and how compact and efficient their storage was.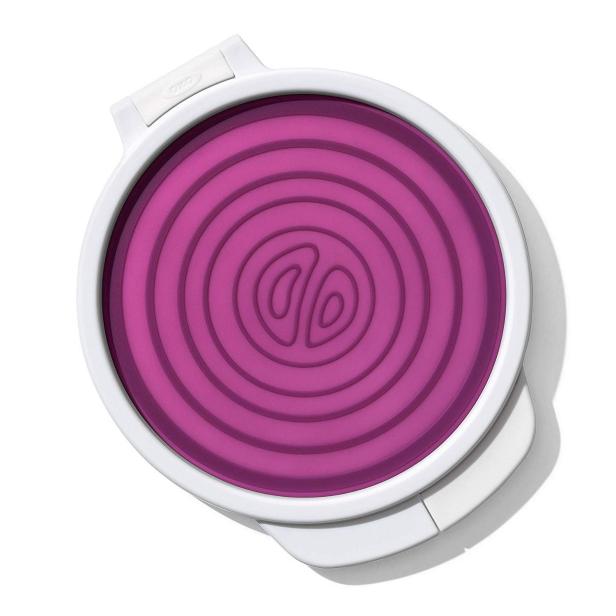 Best Overall: OXO Good Grips Cut & Keep Onion Saver
Although this is specifically designed for onions, we found OXO's Good Grips Cut & Keep Saver worked for avocados, too. The food saver line from OXO has options for onions, lemons, limes and tomatoes, but we found the onion-sized product fit avocados best. After laying the avocado face down on the hard plastic bottom, the silicon covering on top hugs the whole avocado and snaps shut on the outer circle, ensuring an air-tight seal no matter how the avocado is cut. We found it works best to remove the pit from the avocado, so it can lay flatly on the saver. At the end of the week, the sides and bottom of the avocado were less brown than the others we tested, but slightly mushy, nonetheless. The top and pit area remained almost as green as day one. Try to use your avocado by the fifth day of storage to hit the sweet spot for this avocado keeper before the brownness really sets in.
Buy It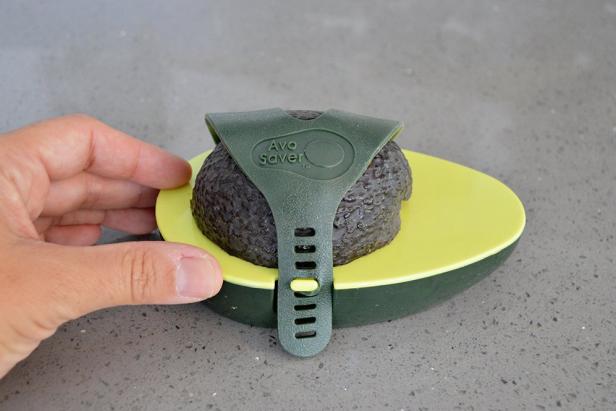 Best For Keeping the Pit: Evriholder Avo Saver
We were hesitant about this product because it seemed like you had to cut the avocado perfectly in half to keep both ends air-tight against the holder. But nevertheless, this avocado was one of the freshest after a few days, despite our slightly uneven cutting! Having the pit still inserted helps the whole avocado to stay fresher for a longer amount of time. The sides browned quicker than the top and bottom areas did. The adjustable strap allows the avocado to be tucked in snugly no matter how big or small it may be.
Buy It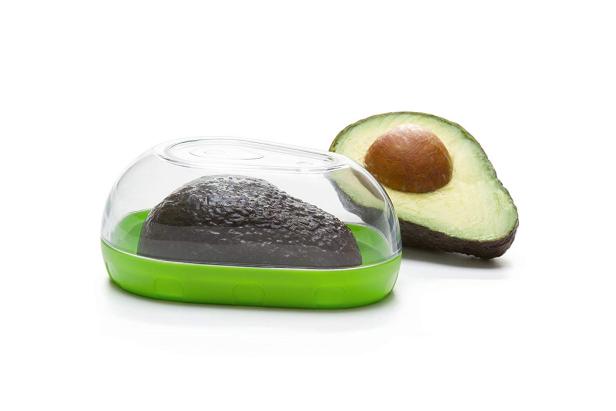 Most User-Friendly: Prepworks by Progressive Avocado Keeper
All you have to do with this gadget is place your cut avocado face down after taking out the pit and snap on the lid! No matter what shape or size your avocado is, it's sure to fit neatly in this air-tight case. It's easily stackable, too, so you don't have to worry about your avocado getting smushed. The total surface area was browner than our top two products, but removing the top browner layer with a knife will give you use of the rest of the avocado.
Buy It