The Best Dishwasher Detergents, Tested By Food Network Kitchen
Keep in mind: Price and stock could change after publish date, and we may make money from these affiliate links.
Like many of you, we love to cook, but don't really enjoy the cleaning up process — so our dishwashers are the MVPs of our kitchens. However, if you rely on yours as much as we do, you know that even the best dishwasher is only as good as the detergent you use. So we ran load after load of our messiest dishes, trying pods and liquids alike, to find which detergents are the best of the best. It's worth noting, we tested best-selling liquids and pods and found the pods were top-performers.
How We Tested
We purchased 10 top-rated, best-selling liquid and pod dishwasher detergents. We loaded a GE Profile dishwasher with unrinsed dishes, including cookware, collected from a full day of meals and ran each load with a different brand of detergent. We used the "regular wash" and "heated dry" settings for each load. We noted the results as we unloaded the machine, eliminating any detergents that left behind significant residue on more than one dish or piece of silverware. We ran the best of the bunch through another round of dirty dishes to be sure. We collected the dishes all day, starting first thing in the morning, and ran each load at night, then unloaded the dishwasher in the morning, so each load was fully dry. Though we tested liquids and pods, none of the liquids made it through the first round of testing.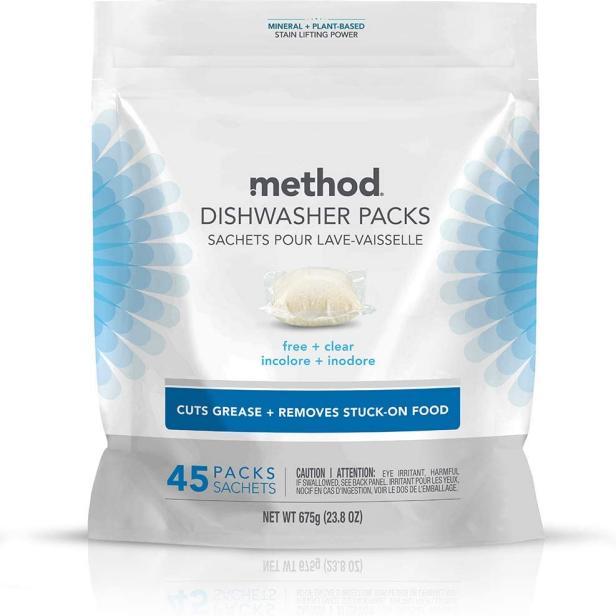 Best Mineral and Plant-Based Detergent: Method Dishwasher Packs
We feared that testing mineral- and plant-based detergents against traditional ones would be an unfair fight. Turns out, not so much. These pods are free of phosphates and chlorine bleach, but still come through with plenty of cleansing power, working just as well as their more traditional counterparts. Plus, with no dyes or fragrance, they're a great option for people with sensitivities. Bonus: They're easier on the enviroment. No animal testing, and the recyclable pouch they come in is made from 20% recycled plastic.
Buy It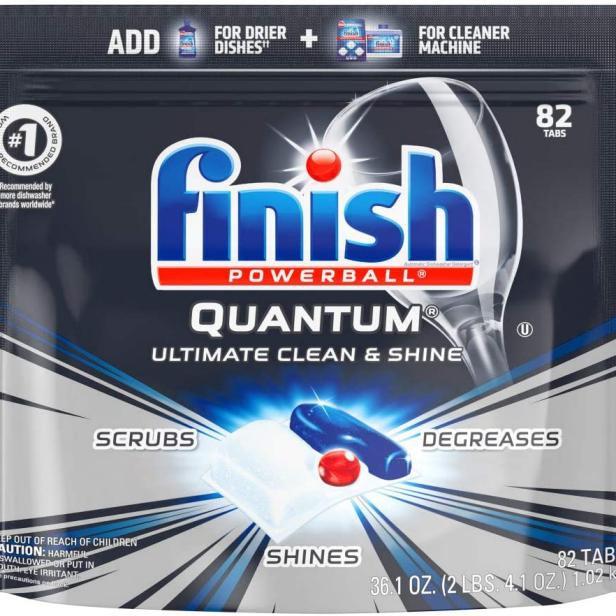 Best Three-In-One Detergent: Finish Powerball Quantum
The fancy design of these pods — the blue side and the white speckled side meet in the middle with a red ball — seemed gimmicky to us, until we tried them. The idea is that the white part scrubs, the blue degreases and the red shines; and although we can't confirm that's what's really happening when we closed our dishwasher door, these tabs deliver. Dishes, glasses and silverware came out sparkling, with no streaks or spots. Though these have a very strong smell coming out of the package, which we don't love, the machine doesn't smell during or after the cycle, as it did with some other, less effective detergents. The dishes also didn't retain the scent.
Buy It
Best Detergent for Tough Loads: Cascade Platinum Plus+
Here's another fancy-looking pod with multiple chambers of different-colored detergents. It worked very well on tough loads of dishes, and left no spots or streaks on dishes, silverware and glasses. The package claims these pods also clean the dishwasher; although, we didn't notice it was cleaner than with other pods. One thing to note: The scent of these pods is extremely strong, and it lingers on dishes and the dishwasher, so this one is not for you if you're sensitive to fragrances.
Buy It