The Best Ice Cream Scoops, Tested by Food Network Kitchen
Keep in mind: Price and stock could change after publish date, and we may make money from these links.
Not all ice cream scoops are made the same. To figure out which does the job best, we scoured the Internet for the most-popular, top-rated tools and solicited the help of the co-founder of Salt & Straw Tyler Malek for some pointers on what to look for while testing them. Turns out, the simplest scoops with a rounded top like the Zeroll, which created picture perfect, round balls of ice cream, are best. Our top scoops all sliced through ice cream well, had comfortable handles and some even came with a few extra features to help them stand out.
How We Tested
We ordered a selection of best-selling and top-rated ice cream scoops, varying in shape and size, including a few with a trigger to determine which types and models performed best.
Before scooping, we evaluated material and design, making note of a non-slip or ergonomic grip, weight, scoop size and any special features. We then tested on three different types of ice cream, trying each scoop on ice cream immediately removed from the freezer as well as ice cream that had softened on the counter for five minutes. We took note of how easily the scoops glided through the ice cream, how they felt in our hands, whether they created a classic rounded ball of ice cream and how easily that ice cream released from the scoop. We also noted how evenly they scoop — according to Tyler, a good scoop should properly distribute your weight and produce a perfectly round ball of ice cream.
We also paid attention to the cleanup process. While ice cream scoops are all relatively easy to hand wash, we made note of any that were dishwasher-safe.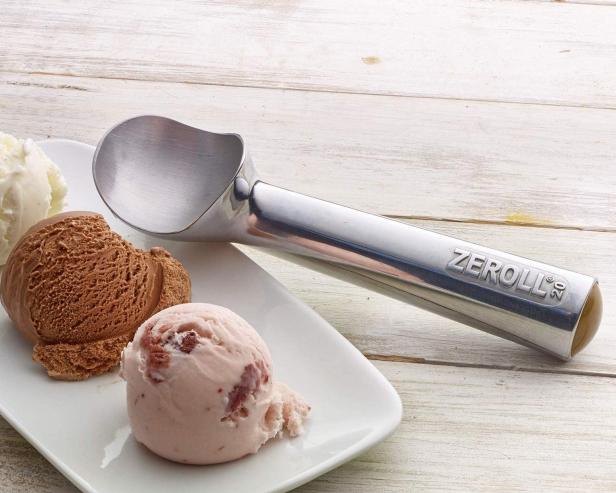 Best Overall : Zeroll Ice Cream Scoop
When comparing scoops, we immediately noticed this model from Zeroll was the only non-trigger option with a rounded tip, which is something Tyler mentioned would help the scoop create perfectly rounded balls of ice cream you might get at your favorite parlor. He also mentioned from the beginning that this would be the best — and, after diligent testing, we can't help but agree. It cut through hard and soft ice cream easily and created the most picturesque scoops. While it doesn't have a non-slip or ergonomic grip, we found it comfortable to hold (probably due in part to how lightweight it is). The company claims that the heat-conductive liquid in the handle is to credit for the smooth scraping and easy release, stating that it captures body heat to help cut through ice cream. All we know is it truly made getting our sweet treat from the pint to bowl nearly effortless.
Buy It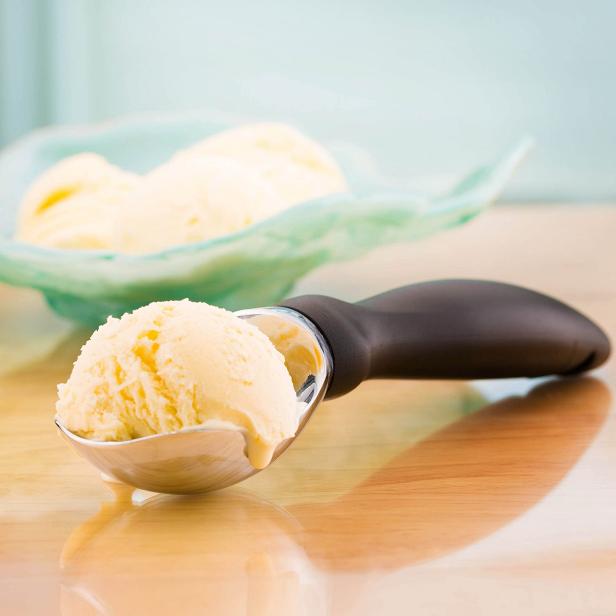 Best Flat-Top Scoop: Spring Chef Ice Cream Scoop
We found that the flatter top and edges of this model made scooping both hard and soft ice cream relatively easy, though results were much better after we waited five minutes for the ice cream to soften. The scoop created large, round balls of ice cream that released easily from the scoop. It is relatively lightweight with a comfortable non-slip grip, so we could see using this to scoop up ice cream for the whole family without any wrist pain. Plus, it comes with a fun notch feature on the back of the handle to tackle hard-to-open ice cream lids.
Buy It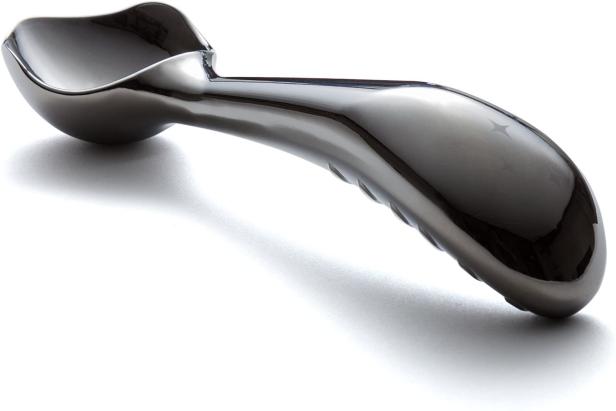 Best for Relieving Wrist Strain: Midnight Scoop
Most scoops function on a pull system, meaning you hold the scoop at a 45-degree angle, pulling it toward you to create the perfect ball of ice cream. This one, though, was designed with your wrists in mind. The ergonomic handle was designed to fit in the palm of your hand so you can push away from you, gliding through the ice cream and saving your wrists from potential strain. We found this method to work best when scooping through ice cream fresh out of the freezer and the handle to be the most comfortable to grip. Plus, it's dishwasher-safe and easy to use.
Buy It