7 Best Air Fryers, Tested by Food Network Kitchen
We air fried chicken, cake and fries to find our favorites.
Keep in mind: Price and stock could change after publish date, and we may make money from these links.
We updated this guide in October 2019 after the Instant Vortex 6-Qt. 4-in-1 Air Fryer launched in Septmeber 2019. You can check out our review here. After testing chicken, cheese puffs and broccoli in the Instant Vortex, it's our new favorite pick. We also still love many picks from our original test by Ben Mims in November 2018. Read on for our list of current favorites.
By Ben Mims for Food Network Kitchen
Air fryers have been on the market for several years, but now we're seeing them in such varieties of shapes and sizes that, like different makes and models of cars, it can be difficult to discern a coupe from a clunker.
Unlike microwave ovens that may be shaped differently but still retain the same basic functions across various models, air fryers do differ slightly from model-to-model. Some are bare-bones convection ovens, while others come with extra bells and whistles that allow you to dehydrate food or rotate it on a spit!
We tested out several top models to see which ones stood out from the rest of the pack. If you're in the market for an air fryer, use this guide to figure out which machine is perfect for you.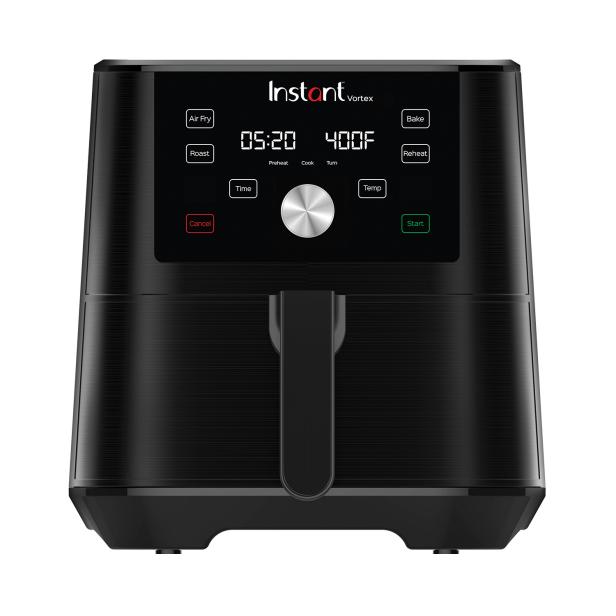 We already love the Instant Pot, so it's no surprise that Instant Brands churned out another winning product with the Instant Vortex. During our tests, we found this air fryer cooked with more power than the others, delivering crispy, evenly cooked food every time. That said, we did notice a whirring sound while it works, although, it's no louder than a microwave. We also love the size. The 6-quart capacity is large enough to hold a whole pound of chicken, while the Crux could only make a half-pound of chicken per batch. The interface on the Instant Vortex is also very user-friendly with a touchscreen for pre-programmed settings and a dial that can up the temp in 5-degree incriments. It also has a sleek angular look that you won't mind seeing on your countertop every day.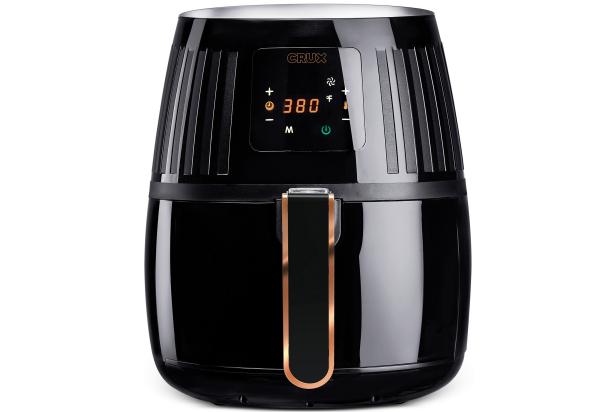 This air fryer was our favorite model of 2018. Call it Goldilocks' choice — this model is the perfect size for most homes and cooks food better and more efficiently than most any other model. Its exterior shell stays cool and its clear digital display is wonderfully devoid of too many buttons, allowing you to easily toggle between time and temperatures in 5-degree increments. Its lightweight basket also made it easy to toss food halfway through cooking to make sure every piece gets an even golden brown crunch.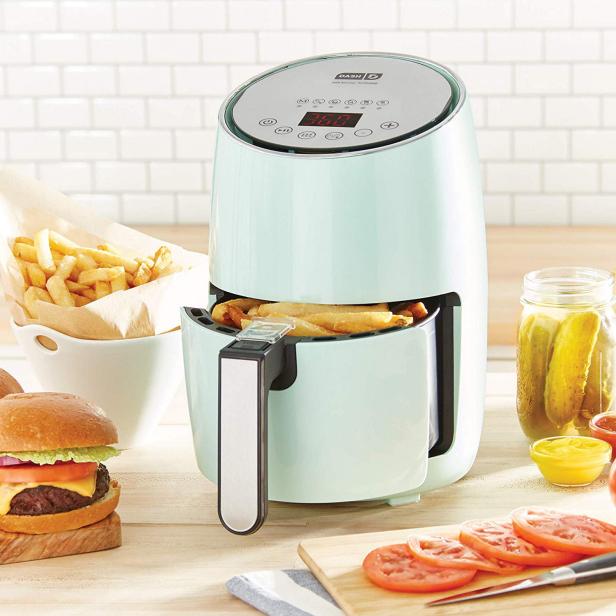 While most air fryer models have a 2- to 3-quart capacity, this model can only hold half that, making it ideal for cooking for one. Its tiny footprint also means it takes up less room on your counter and fits perfectly in a dorm room, RV or in a roll-on suitcase (you know, if you get that attached to it). And the smaller heating volume browned the fries, chicken and cake we tested in it better than any other model.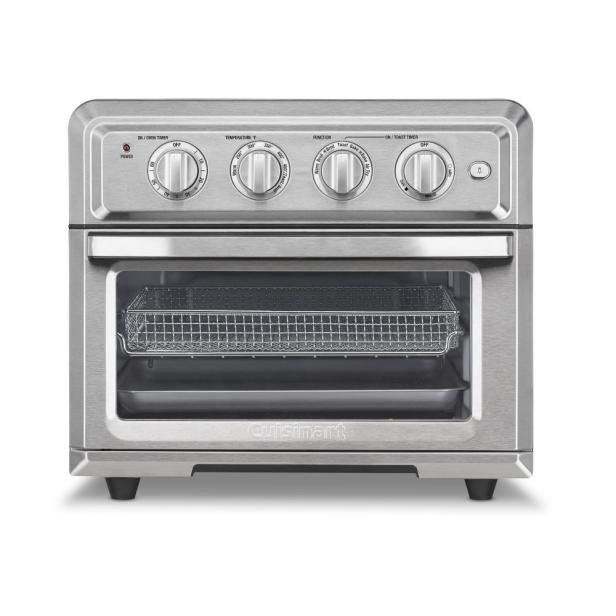 If you're intrigued by air frying, but are put off by aesthetics of most machines, this model solves that by masquerading as an oven, just in a small size. It's wide, shallow air frying basket means you can fit more food in it, perfect for feeding a larger family and more air reaches that food than in traditional models, providing excellent browning on fries and chicken. It also bakes up tender cakes, nixing the need for extra machines like a toaster oven or even conventional oven. You can also use its bake, broil and toaster settings to get four machines in one, so you don't have to choose between having a separate air fryer and oven ever again.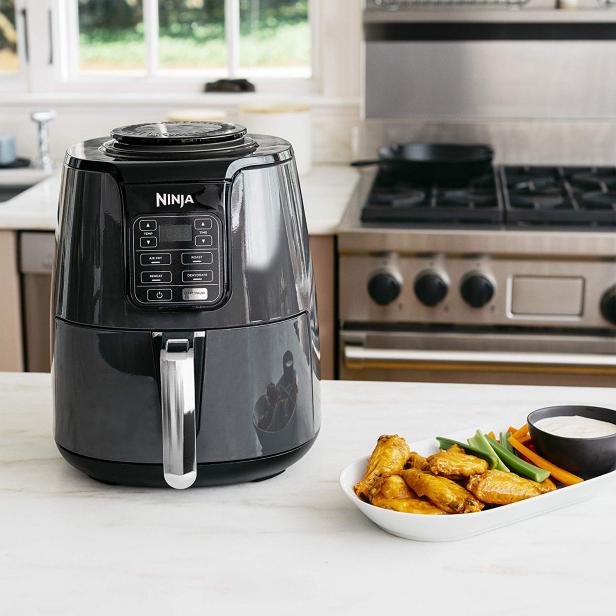 This model is sturdy, compact and feels like it's made of quality materials, a boon when a lot of air fryer models can feel like they're made of flimsy plastic that gets too hot to touch. This model is the ideal size for cooking enough food for two people and cooked all the foods we tested to a beautiful golden brown and with crisp texture. Its handy, multi-function display gives it a more functional appearance than that of a futuristic robot. Plus, you can dehydrate with this model, which slows the heated air that circulates around the food so it gradually dries out kale, apple slices and more for healthy fruit and veggie chips and other dehydrated foods.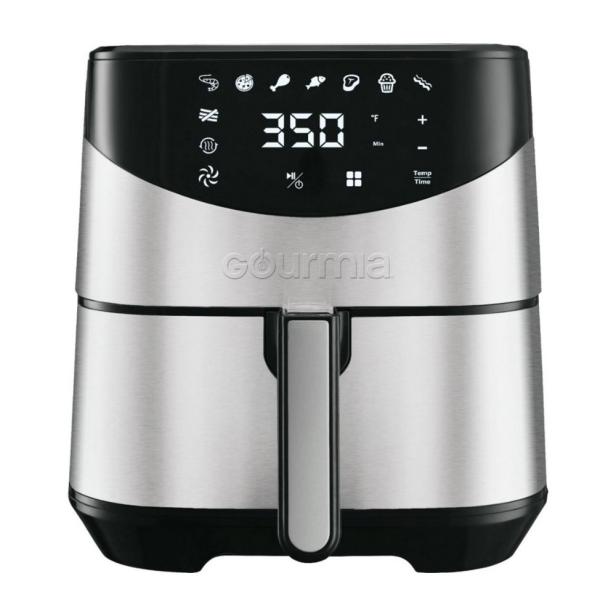 While most air fryer models are round - an aide in circulating the heated air that cooks food evenly - this model is square. That extra space and shape and the ridges on the bottom that make it easy to create zones of different foods to cook, so that a whole meal - protein, veggies, and carbs - for 2 can come out at the same time and in neat fashion. Take advantage of the extra space the square shape allows and fit in more fries, chicken wings or even meatballs to take over party food duties when you need to get hot appetizers out quick.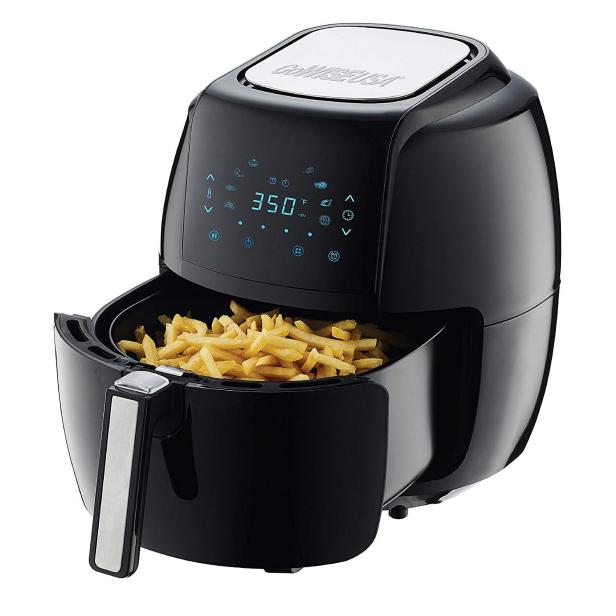 A lot of what makes an air fryer fun to use is how the user gets to interact with it. The display on this model stuns when you turn the machine on by flashing forward in a bright blue, with graphic buttons and easy-to-understand functions. Its extra-large basket holds just a few more fries and an extra chicken breast than your typical model, a huge plus in case an extra guest or two pop by for dinner or are staying with you for the weekend. The interior surface was the easiest to clean of all the models tested, often needing only a wipe of a paper towel to rid it of any mess.
We evaluated each air fryer by making frozen, store-bought French fries, bone-in, skin-on chicken breast and prepared yellow cake from a mix to determine if the machine browned food well on the outside by the time it cooked inside and produced crispy texture on the outside. We also checked how easy it was to clean the machine and how effective each machine was at even heating and cooking. We tested how organic the controls were to use, too, eschewing clunky manual dials that don't pause themselves in favor of digital displays/buttons that were easy to set and paused themselves when you opened the baskets to check your food. Extras like how aesthetically-pleasing the models were, how much noise they made while cooking, and how cumbersome they were to interact with were also measured as tiebreakers to separate the best machines from the regular joes.
Ben Mims is the author of "Air Fry Every Day: 75 Recipes to Fry, Roast, and Bake Using Your Air Fryer" (Clarkson Potter, 2018). He is a food editor who has worked at Saveur, Food & Wine, and Lucky Peach, where he served as the test kitchen director. His work has appeared on FoodNetwork.com, Food52.com and Epicurious.com, and in Food Network Magazine, Rachael Ray Every Day, Bake From Scratch, and Jarry, as well as cookbooks by Munchies for Vice and Dovetail Press. He is also the author of "Short Stacks: Coconut" (Dovetail Press, 2017) and "Sweet & Southern: Classic Desserts with a Twist" (Rizzoli, 2014). He currently lives in Manhattan.
More Product Tests By Food Network Kitchen