3 Extra-Large Air Fryers That Are Perfect for Families
Cook a pound of chicken or a big batch of fries in one of these large-capacity air fryers.
Keep in mind: Price and stock could change after publish date, and we may make money from these links.
Air frying is all the rage among cooks of all skill levels these days. These mini convection ovens are perfect for turning homemade wings and French fries simple weeknight projects, but there can be one major deterrent when deciding whether or not to add a new appliance to your kitchen — and that's how much (or little) most air fryers are able to hold. Most models, especially the classic egg-shaped models, tend to be on the smaller size holding roughly two chicken breasts at a time or just a serving or two of fries. While that's great cooking for one or two, cooking for a family can seem next to impossible in an air fryer that size.
We've tested several models of air fryers in various shapes and sizes and have found that there are a few models designed with ample space to cook large enough batches for a family. With a large-capacity air fryer, recipes like Food Network Kitchen's Air Fryer Chicken Tenders take less time because you won't have to split the frying into as many batches. And, cooking a whole roast chicken no longer requires turning on the oven and heating up your whole house.
If you're looking to air fry a whole pound of chicken, bake a decent-sized cake or make enough French fries for your kids and their friends, we suggest one of these air fryers that are perfect for families.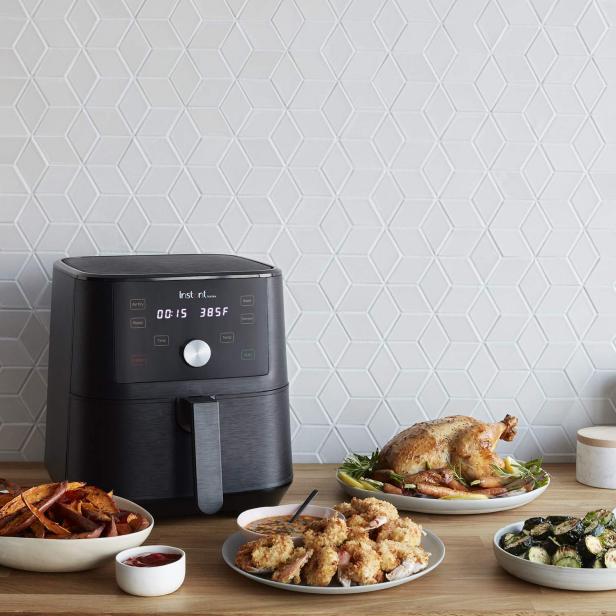 We already love the Instant Pot, so it's no surprise that Instant Brands churned out another winning product with the Instant Vortex. During our tests, we found this air fryer cooked with more power than the others, delivering crispy, evenly cooked food every time. That said, we did notice a whirring sound while it works, although, it's no louder than a microwave. We also love the size. The 6-quart capacity is large enough to hold a whole pound of chicken, while the Crux could only make a half-pound of chicken per batch. The interface on the Instant Vortex is also very user-friendly with a touchscreen for pre-programmed settings and a dial that can up the temp in 5-degree incriments. It also has a sleek angular look that you won't mind seeing on your countertop every day.
Buy It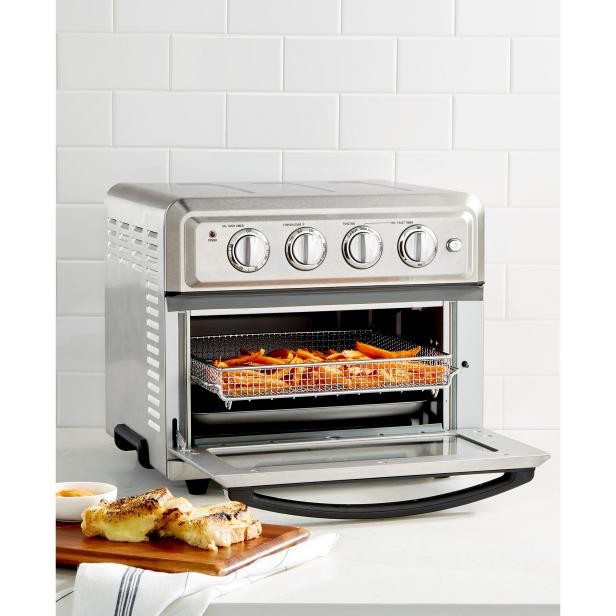 If you're intrigued by air frying, but are put off by aesthetics of most machines, this model solves that by masquerading as an oven, just in a small size. It's wide, shallow air frying basket means you can fit more food in it, perfect for feeding a larger family and more air reaches that food than in traditional models, providing excellent browning on fries and chicken. It also bakes up tender cakes, nixing the need for extra machines like a toaster oven or even conventional oven. You can also use its bake, broil and toaster settings to get four machines in one, so you don't have to choose between having a separate air fryer and oven ever again.
Buy It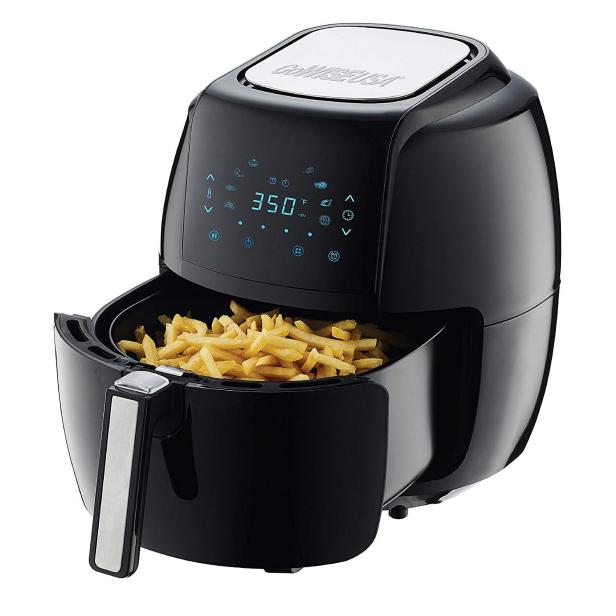 A lot of what makes an air fryer fun to use is how the user gets to interact with it. The display on this model stuns when you turn the machine on by flashing forward in a bright blue, with graphic buttons and easy-to-understand functions. Its extra-large basket holds just a few more fries and an extra chicken breast than your typical model, a huge plus in case an extra guest or two pop by for dinner or are staying with you for the weekend. The interior surface was the easiest to clean of all the models tested, often needing only a wipe of a paper towel to rid it of any mess.
Buy It
More Product Tests By Food Network Kitchen