The Best Cookware Sets You Can Buy Right Now
We've used many pots and pans in our test kitchen. Here are the best sets you can buy, according to the experts.
Keep in mind: Price and stock could change after publish date, and we may make money from these links.
By Sharon Franke for Food Network Kitchen
Our Top Cookware Set Picks:
We've been sautéing, frying and simmering in our test kitchens all day, every day for years. Using our pro experience, we've picked the perfect cookware sets for all kinds of cooks.
Pots and pans are available in a wide array of materials, with and without nonstick finishes, and there are distinct differences between the various offerings when it comes to how they cook and their ease of use. While sets are sold at a huge range of prices, you don't have to spend top dollar to get a dependable one that you'll find a pleasure to cook with. Before you shop it's important to get a handle on what you like to cook and for how many people, as well as your tolerance for scrubbing and the size of your budget.
What To Know Before You Buy
Which Material Is Right For You?
The first thing to consider is what pots and pans are made of. Copper cookware heats the most evenly and is the most responsive (meaning, take your pan of hollandaise off the burner and it stops cooking immediately so there's no danger it will curdle). But copper is super pricey and requires a lot of upkeep if you want to maintain its bright, shiny finish.
Next-best at heat distribution is aluminum. However, when you cook directly in aluminum some of the metal leaches into your food, giving it a gray-ish cast. The vast majority of aluminum cookware has some kind of finish, either enamel or nonstick, to prevent this from happening and also make it easier to clean. Some aluminum pans are hard-anodized, which means they've undergone an electrochemical process that strengthens and darkens the metal, protecting if from denting and stopping it from interacting with whatever you're cooking. Aluminum cookware can't be used on an induction burner unless it has a layer of stainless steel in the base.
Stainless steel is prized for its beautiful appearance and durability. However, it's a poor conductor of heat. Any stainless cookware "worth its salt" will be either clad, meaning it has an interior core of aluminum that extends through the base and up the side, or will have a layer of aluminum in the bottom to give even heating. Cookware made of stainless steel is pricey and grease splatters can be difficult to clean off.
What You Need to Know About Nonstick Sets
There's no argument with the fact that nonstick coatings keep food from sticking and make cleanup easier. However, these finishes don't last forever; eventually they will lose their stick resistant properties. That might not bother you if you bought an inexpensive omelet pan but can be upsetting if you've invested in an expensive set.
Although there is no evidence that traditional nonstick coatings are toxic or harmful to cook in, they can release fumes if they overheat, which can happen if you preheat an empty nonstick pan or use it over very high heat. If you want the benefits of a nonstick coating but want to minimize any risks, you can opt for a ceramic nonstick coating. While these finishes, which are derived from sand, are not quite as good at releasing food and not as long-lasting, they can be safely used at higher heats.
What Pieces Should You Look For?
Consider what pieces are included. Keep in mind that some of the items are lids and sometimes the manufacturer throws in a few plastic utensils and adds them to the piece count. Every kitchen should have 8- and 10- inch skillets as well as a larger covered 12-inch skillet or straight-sided sauté pan. We give points to sets that include a 12-incher as it's such a versatile pan for frying, stir-frying and one-pot dishes like paella or chicken with dumplings. And while you can always pick up a reasonably-priced small fry pan for eggs and crepes, filling in your set with a large pan, can set you back a bit.
Every set will also include one or two saucepans and again, larger ones are more useful as you can warm a cup of soup in a 3-quart pot but might not be able to make enough rice for the whole family in a 1-quart. Lastly, a piece that doubles as a stockpot or Dutch oven is always one component of a set. A 6-quart pot is plenty big enough for a batch of soup or stew and boiling water for pasta, but if you're a pasta purist, who wouldn't think of boiling your spaghetti in a pot smaller than 8 quarts, you may want to see if one is included.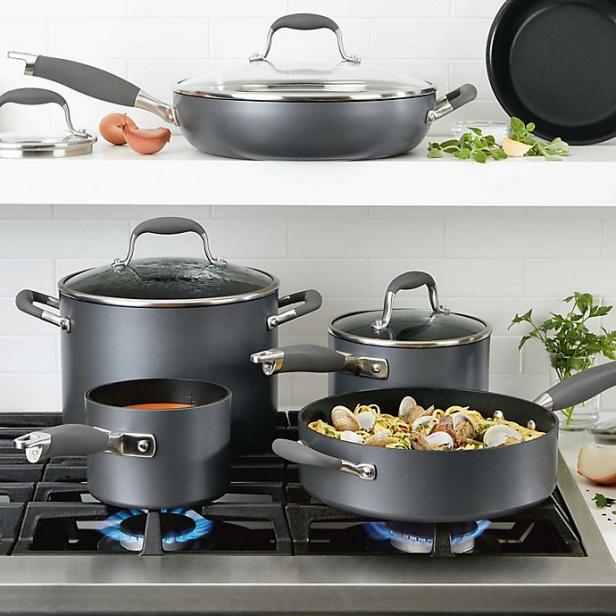 Included: 8.5" skillet, deep 12" skillet with lid, 1.5- and 3-quart saucepans with lids, 4-quart saute pan with lid, 8-quart stockpot with lid
With this set, you'll get the very best nonstick performance. Even the stickiest foods, like fried eggs and pancakes, fall out of the pan, leaving the surfaces virtually spotless, even when you don't use butter. While you may think of nonstick as best for frying, you'll also appreciate how rice doesn't stick to the pots. You can also count on these pots and pans to brown burgers evenly and simmer a tomato sauce steadily. The body of the pan is anodized aluminum and the exterior finish, which comes in your choice of gray, indigo, bronze or black, is also nonstick for the ultimate in easy cleanup.
As Anolon is oven-safe up to 400 degrees F, you can use the skillets for a frittata or Dutch baby pancake that starts off on the stovetop and finishes in the oven. In addition to an 8-quart stockpot you get a wide and deep 12-inch skillet that's perfect for dishes like pork chops and peppers or chicken and dumplings. All of the lids are glass so you can see if your paella has absorbed all the broth without uncovering the pan and losing heat. One little quibble: You may need to do a little detail work to keep the stainless-steel rivets inside the cookware clean.
Buy It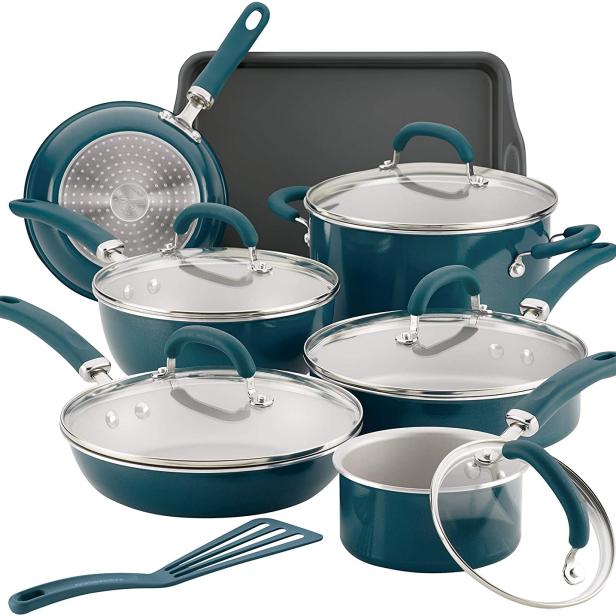 Included: 8.5" frying pan, 10.25" deep frying pan with lid, 1.5- and 3-quart saucepans with lids, 6-quart stockpot with lid, 3-quart saute pan with lid, turner, cookie pan
If you prefer bright, cheery kitchen tools this set comes in shimmery shades of red, burgundy, teal, light blue, and yes, gray if you must. In spite of its very reasonable price, this set offers even heating and has an interior nonstick finish that makes it easy to scramble up eggs and then clean out the pan afterwards.
Rachael Ray offers offer some very nice features that you don't always find at this price including silicone handles that are riveted, not screwed on, so they won't be coming loose, glass lids, and flared rims to enhance pouring. On the bottom there's a stainless-steel base that makes the cookware safe for use on an induction cooktop and you can pop a skillet in the oven up to 400 degrees F. There are no extra-large pots included, but the 6-quart stockpot is plenty adequate for soups and pasta water and can also serve as a Dutch oven.
Buy It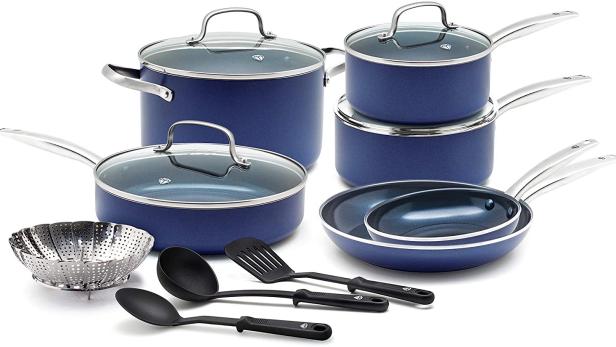 Included: 7- and 9.5-inch frypans, 2- and 3-quart saucepans with lids, 5-quart stockpot with lid, 2.5-quart skillet with lid, stainless steel steamer insert, 3 nylon cooking tools
Blue Diamond is made of aluminum that's coated inside with a ceramic finish, rather than a traditional one made of PTFE. While you many not find it as stickproof, you will get the benefit of easy cleanup. Unlike other nonstick pans, these can withstand temps up to 850 degrees F on the stovetop or in the oven, so you can go ahead and fearlessly sear a sirloin in a frypan or glaze pork chops under the broiler. Testing has revealed that Blue Diamond heats evenly, so if you're slinging pancakes you don't have to keep moving them around in the pan to get them all done at the same time.
In spite of its low cost, these pieces are quite handsome with a dark blue exterior enamel surface and brushed stainless steel handles. Although the handles are attached with rivets for durability, they're coated with the nonstick finish so don't require any extra work to keep clean. The lids are glass to let you check if your soup is simmering gently or boiling ferociously and then adjust the heat accordingly. One thing to note is that the pieces in this set are not exceptionally large. The Dutch oven is 5 quarts and the deep straight-sided sauté pan is only 2.5 quarts.
Buy It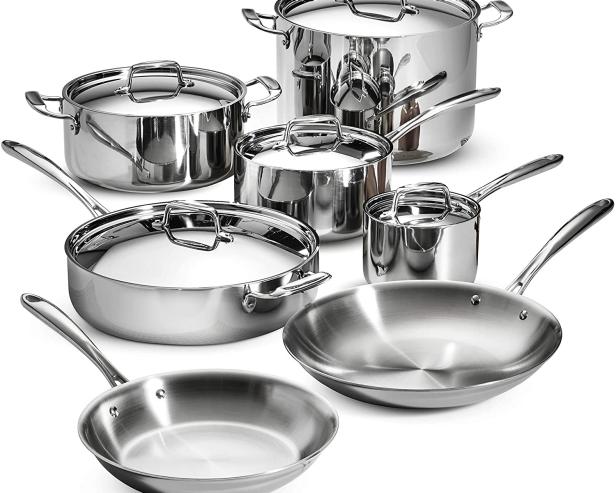 Included: 10" and 12" fry pans, 1.5- and 3-quart saucepans, 5-quart deep sauté pan, 5 -quart Dutch oven, and 12-quart stockpot
If you're lusting after professional-looking stainless-steel cookware but don't have the big bucks to shell out, this is the set for you. You'll get solid performance whether you're caramelizing onions or simmering a Bolognese. As the handles are rounded, they offer a comfortable grip.
This collection offers you a lot of value for your money. In addition to the basic skillets and saucepans, you get a large saute pan, a Dutch oven, and a huge 12-quart stockpot. As the 12-inch fry pan is deep and rounded, it's perfect for stir fries. All in all, you're pretty much covered for every possible cooking need. Tramontina can be placed in the oven up to a temp of 500 degrees F, which should be more than enough for everything from keeping a casserole warm, to braising a pot roast, to browning off an apple crisp. Like all stainless, this cookware is dishwasher safe but is prone to some discoloration over time.
Buy It
Included: 8.5" and 10.5" skillets, 2- and 3- quart saucepans with lids, 3-quart saute pan, 8-quart stockpot with lid
Hands down, this is the set you want if price is no object. Time and time again, testing shows that All-Clad browns perfectly evenly and keeps stews and sauces at a perfect simmer. What that means to you is that you won't have to vigilantly rearrange, stir and adjust the heat during cooking. All gleaming stainless steel inside and out, it has a core of aluminum that's responsible for its great results. We love the sloped shape of the skillets which make it easy to roll out an omelet.
The handles are riveted onto the base which is a guarantee that they'll never fall off. D3 can be used in the oven up to 600 degrees F, so you can finish off a piece of salmon in the oven or crisp up a skillet mac 'n cheese under the broiler. In this collection, you get all the essential pieces including an 8-quart stockpot for boiling spaghetti water or big batch soups. However, the sauté pan is only 8-inches in diameter so may want to supplement with a bigger covered skillet or saute pan for one-dish dinners. You can safely wash these pots and pans in the dishwasher and they are easy to clean by hand unless you sear over high heat and get spatters cooked onto the surface. Sizes are etched on the bottoms so you always know whether you're grabbing the pan specified in your recipe.
Buy It
To select our best cookware sets, we relied on our years of rustling pots and pan both in our test kitchens and on our own home stoves. We checked what professional reviewers had to say about their test results and what home cooks reported about long-time use.
In addition to considering how well pots and pans cooked and how easy they were to use and clean, we considered the assortment of pieces included in each set. Our picks contain a selection of pot and pans that we think will meet most of your cooking needs.
Sharon Franke has been testing and writing about kitchen equipment for over 30 years. Before becoming a cooking tools expert, she spent seven years working as a professional chef in New York City restaurants. In her free time, she's busy baking sourdough bread and rustling pots and pans on her own stove.