5 Best Juicers of 2023, Tested by Food Network Kitchen
The best juicers can make getting your daily fruits and vegetables fast and easy.
Price and stock could change after publish date, and we may make money from these links.
We're sorry, there seems to be an issue playing this video. Please refresh the page or try again in a moment. If you continue to have issues, please contact us here.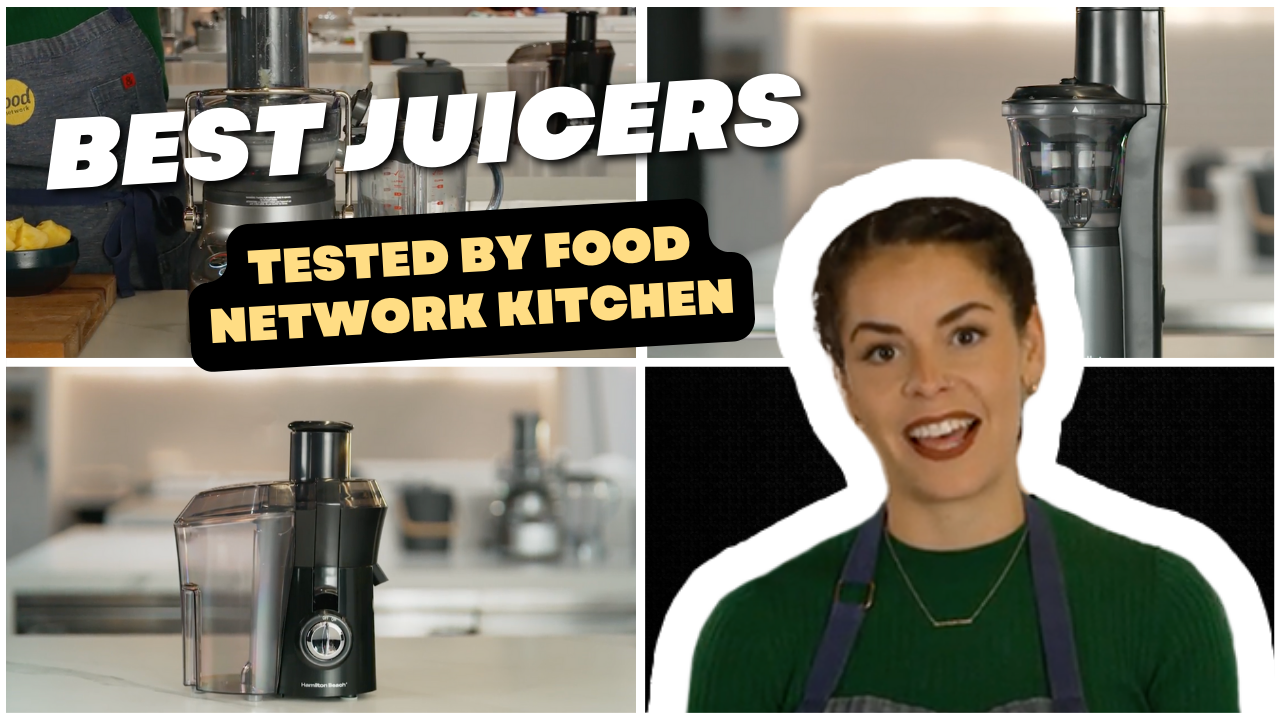 You can make delicious juice at home with the help of a juicer. Sarah Holden, culinary producer for Food Network Kitchen, demos three of our top picks, above.
Tested by Taylor Murray for Food Network Kitchen
This article has been reviewed since its original publish date for accuracy, pricing and availability. We stand by our list of top juicer picks.
You know the importance of maintaining a diet high in fresh fruits and vegetables. The nutrients are undeniably important for health and wellness. The problem is that it isn't always easy to prepare and consume all the fruits and vegetables we actually need. It's no wonder why juicing has taken off in popularity in recent decades. Imagine getting your total required daily serving of fruits and vegetables in a single glass of easy-to-drink juice. Whether you are already a juicing pro or just juice-curious, we've rounded up the best juicers after putting them through rigorous testing.
Which Type of Juicer Is Best?
The process of juicing may seem simple, but there are different designs on the market that have pros and cons on both sides. Most home juicers are either centrifugal or masticating.
Centrifugal juicers use a spinning blade-lined metal mesh basket to shred fruits and vegetables to pulp. Gravity pulls the juice down through the mesh and out to the juice cup, while centrifugal force whisks the pulp that's left behind up and over the side of the basket to the attached waste bucket. This type of juicer is fast, easy to use and generally needs less parts, so easier to clean. Centrifugal juicers can come up short when juicing tough greens as the produce is not pressed against the screen long enough for much juice to be extracted and much of it ending up in the waste bucket. This type can also create oxidation in the juice which leads to more foam and separation.
Masticating juicers are sometimes also known as slow juicers. Some operate vertically and some horizontally, however both work the same way. These types of juicers use an auger (a corkscrew-type part) to slowly mash produce against a strainer to separate juice from pulp. Produce cannot pass without being mashed by the auger, and for this reason it can extract more juice from tougher produce. Many believe that slow or masticating juicers create less foam, heat and oxidation, therefore more nutrients are transferred to the juice and there is less waste. These types of juicers can take more time than a centrifugal juicer but ultimately produce more juice. One downside to this kind of juicer is that food that is not mashed small enough by the auger can become jammed inside, requiring the user to reverse the mechanism or take the entire juicer apart to clear. Another downside is that the food chutes for this type are often smaller and require food to be cut before inserting.
Which Juicer Is the Healthiest?
All juicers create fresh-squeezed fruit and vegetable juice and there is no evidence to support that either type of juicer creates a substantially lower nutrient juice. Some heat may release certain types of vitamins, but most studies have conducted this test with temperatures upwards of 180 degrees F, which no juicer comes close to.
Masticating juicers can extract more juice and more juice means more nutrients. For this reason, masticating juicers may be considered 'healthier'. However, some juice is better than no juice, so you should choose the juicer that works best for your lifestyle and budget.
What To Know About Cleaning a Juicer
Many juicers have dishwasher-safe parts, but some do not. The most important thing about cleaning a juicer is that fruits and vegetables contain moisture and sugar. If a juicer isn't cleaned right away, all the bits of pulp and sticky juice can make cleaning much more difficult. All the juicers we tested came with handy scrub brushes to help clean particles out of the fine mesh screens that filter the juice from the pulp.
To find the best juicers, we analyzed the market for top sellers and highly-rated favorites across the board. We selected several models of different types (slow, compact), sizes and price points.
Before any testing, we looked at each manual and instruction booklets to see which were clear and easy to follow or included helpful recipes. We noted how long it took to assemble each juicer and if there were any steps needed before juicing the first time. If any juicers made certain claims, we tested those to ensure if they did, in fact, deliver.
When it came to testing the main function (juicing), we ran three tests on each model. One whole apple (if a whole apple could fit in the hopper), 3 stalks of celery, and 1 cup of leafy green kale. We noted which were easy to juice and which were not, as well as noise level during juicing. We weighed the produce before testing, then weighed the pulp and measured the volume of juice to determine how much was extracted. Last, we cleaned each one to see how difficult or not they were to clean (and which were dishwasher-safe!).
More Products Tested by Food Network Kitchen