Star Kitchen: Buddy Valastro
Buddy Valastro is known as the Cake Boss, but at home, his wife, Lisa, is in charge of the kitchen.
When the Valastro family moved into their Montville, N.J., home two years ago, Lisa directed the remodel, expanding the room to accommodate all the family gatherings: Their kitchen table seats 20! "We have parties all the time. We throw down in this house," says Buddy, star of the Food Network travel show Buddy's Family Vacation (premiering May 27 at 8 p.m. ET). To keep up with the crowds, the couple installed six ovens, two dishwashers and several refrigerated drawers. They also expanded the island's honed granite countertop for extra prep space, which comes in handy when they play "Chopped" with Sofia, 12, Buddy Jr., 11, Marco, 8, and Carlo, 4. The kids also help prep a big Valastro family lunch every Sunday: Lisa starts sauteing garlic at 8 a.m., and eventually her sous chefs join, including Buddy when he's not on the road. "I'd prefer to have my wife's cooking over a five-star restaurant any day."
Light backsplash The couple chose a pale travertine for the backsplash, and a glass-tile mosaic to draw attention to the stove.
Sunday sauce Buddy and Lisa make their own tomato sauce with produce from the farmers market. In 2015, they made 700 jars that they used (and gave out to loved ones) all year.
Ornate woodwork The home's previous owner installed the cherrywood hood, and Buddy added a scroll motif he designed himself. "It reminds me of cake," he says.
Breakfast bar When they moved in, the Valastros added a dining counter to the island. Marco and Carlo love sitting here while big brother Buddy Jr. whips up pancakes.
Photograph by Steve Giralt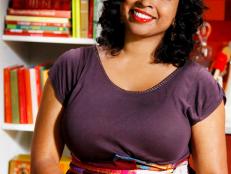 The Next Food Network Star winner Aarti Sequeira takes us through the making of her new show, Aarti Party.