Car Guy: Guy Fieri's Car Collection
Guy Fieri shows off his collection of American wheels to Food Network Magazine.
Dave Lauridsen , dave lauridsen 2013
Guy Fieri's car collection started inside a pair of old UGG boots. It was 1996, and the chef and his wife, Lori, had a new son, Hunter, but Guy was distracted: He was on the prowl for a vintage Chevy Chevelle. "The Chevelle was the car when I was growing up," says Guy. So when a '71 model went on sale nearby, he needed to see it. "I almost died," he says. Guy had to have the car — he just didn't have $25,000 to buy it. That night, he told Lori he was going to mortgage the house, which didn't go over well. Then, with a smirk, Guy reached into an old boot and pulled out $12,000 in cash that he had been secretly stashing, one $20 bill at a time. The next day — using his savings and some negotiating skills (he threw in free meals for a year at his first restaurant, Johnny Garlic's) — the car was his. He didn't love the color at first: "I really didn't want a yellow car," he says. But it grew on him — so much so that he has amassed a whole collection of yellow speedsters and trucks.

Photographs by Dave Lauridsen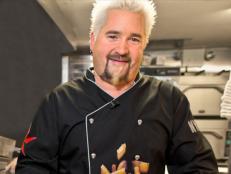 Guy Fieri shows Food Network Magazine his new baby: a giant restaurant in the heart of New York City.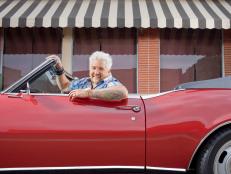 For the third year in a row, Guy's fan-favorite series has scored a coveted Emmy nomination.