Director, Culinary Development

What do you do on a daily basis?
Develop and open food service concepts for Food Network

Who is your culinary icon?
Julia Child

Who is your favorite food TV personality, past or present?
Mario Batali

What's your favorite cookbook?
River Cottage Cookbook

What dish or ingredient will we never catch you eating?
Split pea soup

What's your favorite condiment?
Mustard

What's the first dish you learned to make?
Spoon bread

Sweet tooth, salty tooth or both?
Salty

What kitchen tool can't you live without?
A sharp knife

What music do you like to listen to in the kitchen?
Yanni and Danzig

What's your favorite food scene from a movie?
Better Off Dead: "Franch Dressing, franch fries, franch bread ? "

What's your favorite alcoholic beverage?
Bourbon

If you weren't in food, what career would you have liked to have tried?
Doctor

What's your favorite "food city" to visit?
San Francisco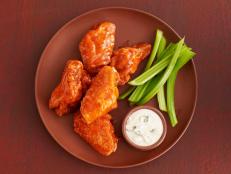 Put a fun new twist on a game-day favorite.