Test Kitchen Manager

What do you do on a daily basis?
I develop recipes in the test kitchen for Food Network Magazine.

Who is your culinary icon?
Julia Child, Alice Waters, Daniel Boulud and José Andrés

Who is your favorite food TV personality, past or present?
Julia Child (again), Jamie Oliver and Mario Batali

What's your favorite cookbook?
There are too many, but I like most any of the old-school French ones like Ma Gastronomie. I also enjoy Tapas by Penelope Casas, Essentials of Classic Italian Cooking by Marcella Hazan, the early Chez Panisse books, and Bouchon by Thomas Keller.

What dish or ingredient will we never catch you eating?
Maybe calf's liver, but I'm good with most anything.

What's your favorite condiment?
Dijon mustard, sambal mayo and bearnaise for fries

What's the first dish you learned to make?
Either fried chicken or scrambled eggs

Sweet tooth, salt tooth or both?
Both

What kitchen tool can't you live without?
Spoons, Microplane, and a Vitamix in an ideal world

What music do you like to listen to in the kitchen?
Clash, Bad Brains or any old-school punk or reggae. I also listen to nostalgic alternative stuff from high school like The Smiths. Mostly music that ends up annoying my family while I'm cooking.

What's your favorite food scene from a movie?
Any food-related scene from Goodfellas, but particularly the dinner Ray Liotta is planning while sending his nanny on the drug run — and the prison scene, of course. I feel like Almodóvar always has good food in the background in his movies too.

What's your favorite alcoholic beverage?
Red wine, or a well-timed cold beer or margarita, depending on the situation

If you weren't in food, what career would you have liked to have tried?
I would open a wine shop or write for a travel guide if that job exists — or just hang out on the set of any of Anthony Bourdain's travel/food shows.

What's your favorite "food city" to visit?
Barcelona, Austin and Paris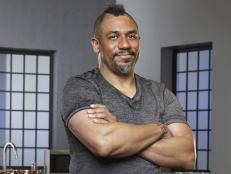 Meet Food Network Star Season 9 finalist Russell Jackson.