Associate Culinary Editor
What do you do on a daily basis?
I play with food — and film it! — all for our social media outlets.
Who is your culinary icon?
My father
Who is your favorite food TV personality, past or present?
Julia Child
What's your favorite cookbook?
The French Laundry Cookbook
What dish or ingredient will we never catch you eating?
Walnuts (because they'll kill me)
What's your favorite condiment?
Ketchup
What's the first dish you learned to make?
Stir-fry crabs with ginger and scallions
Sweet tooth, salty tooth or both?
Sweet
What kitchen tool can't you live without?
A chef's knife
What music do you like to listen to in the kitchen?
Adele, Colbie Caillat and Maroon 5
What's your favorite food scene from a movie?
When Charlie enters the magic candy world in the original Willy Wonka & the Chocolate Factory.
What's your favorite alcoholic beverage?
Vodka and cranberry with a twist of lime
If you weren't in food, what career would you have liked to have tried?
Animal rescue facilitator for ASPCA or the Humane Society
What's your favorite "food city" to visit?
Hong Kong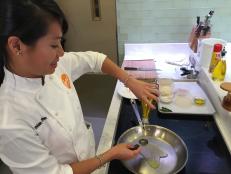 Get a sneak peek into a day in the life of Food Network recipe tester Vivian Chan.