Gluten-Free Times Three Shopping List
Here's what you'll need to make the recipes from this episode of Rachael Ray's 3 in the Bag.
You'll need the following ingredients to make Sweet n' Spicy Shrimp Lettuce Tacos, Zucchini Pappardelle with Pesto and Eggplant alla Norma and Poplano Posole.

Shopping List:
2 pounds large shrimp, deveined and tails removed
2 avocados
3 ears corn on the cob or 1 1/2 cups frozen organic corn kernels
1 firm eggplant
2 heads Bibb lettuce or 1 iceberg lettuce
3 poblano peppers
1 bunch radishes
1 pint cherry tomatoes
3 small to medium firm zucchini
1 lemon
3 limes
1 bunch basil
1 bunch cilantro
1 bunch mint
2 bunches scallions
1 finger fresh ginger
1 red onion
2 heads garlic
1 hunk Parmigiano-Reggiano
1 hunk ricotta salata cheese
3 to 4 ounces pine nuts or shelled pistachio nuts
One 28- to 31- ounce can hominy
2 quarts vegetable stock in a box
1 bottle light agave
1 bottle Sriracha

Pantry List:
Canola or vegetable oil
Olive oil
Rice wine vinegar, white wine vinegar or white distilled vinegar
Natural cooking spray
Chile flakes/crushed red pepper
Ground coriander
Ground cumin
Seafood seasoning, such as Old Bay
Salt and Pepper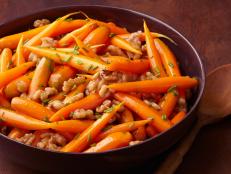 You won't run short on side dishes this year...or next.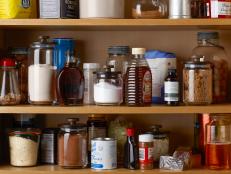 Everything you need to know about flour, sugar, chocolate and other pantry staples.