Mexican Dishes and Recipes
Go beyond the taco and burrito with these authentic Mexican dishes.
Mexican food (not to be confused with Tex-Mex or Cal-Mex) is perhaps the best known of the many Latin American cuisines. Although you'll find the familiar tortillas, salsa and tacos, the foods of Mexico can at times look very different from what North Americans have come to know.

Some authentic Mexican dishes include: Pozole, a hearty soup made from hominy and pork; Carnitas, which are simply "little meats" served with corn tortillas and a variety of salsas and toppings; and tamales of all varieties. Serve the beloved dessert of churros, a Mexican relative of the doughnut or cruller, with a rich cup of Champurrado, a honey-sweetened hot chocolate.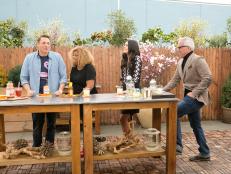 Start building your Cinco de Mayo menu this weekend with Mexican-inspired recipes and spicy dishes from Food Network.