Three Cuisines in One Bag
Here's what you'll need to make the recipes from this episode of Rachael Ray's 3 in the Bag.
You'll need the following ingredients to make Moroccan Red Harissa Chicken, Chorizo Stew with Kale and Teriyaki Chicken with Soba.
Shopping List:
8 boneless, skinless chicken thighs
Four 6- to 8-ounce boneless, skinless chicken breasts
One 12- to 16-ounce package Spanish chorizo
3 red bell peppers
3 red chile peppers such as Fresno or Holland finger peppers
2 mild frying peppers such as cubanelle or Anaheim
1 bundle Tuscan kale
2 bunches scallions
2 large or 3 medium starchy potatoes
1 head garlic
2 large onions
One 1-inch piece plus 2 thin slices fresh ginger root
4 Portuguese rolls
7 1/2 cups chicken stock
3 tablespoons Mirin
3 tablespoons dry sherry
One 28-ounce can stewed tomatoes
One 14.5-ounce can chickpeas
One 12-ounce package soba noodles or 1 pound whole-grain spaghetti
Pantry List:
Butter
1 1/4 cup basmati or other long grain white rice
Sugar
High-temperature cooking oil
Olive oil
Tamari or soy sauce
White wine vinegar
Worcestershire sauce
1 teaspoon ground cumin
3 bay leaves
1 small piece cinnamon stick or pinch ground cinnamon
Sea salt and coarse black pepper
Smoked sweet paprika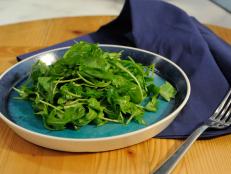 Start with GZ's go-to vinaigrette, then dress it up with additional ingredients for bold flavors and textures.