Three for the Money Shopping List
Here's what you'll need to make the recipes from this episode of Rachael Ray's 3 in the Bag.
You'll need the following ingredients to make Linguini with Kale Pesto, Lemon Chicken and Leek Rice Pilaf and Chicken Suiza Chilaquiles.

Shopping List:
1 whole chicken (5 pounds)
6 large tomatillos
3 poblano peppers
1 bunch Tuscan kale
2 carrots
2 leeks
1 bunch celery
1 bunch cilantro
1 bunch parsley
1 head garlic
1 red onion
2 yellow onions
3 lemons
1 lime
1/2 cup shredded Swiss
1/2 cup shredded Jack cheese
1/2 cup crema, creme fraiche or sour cream
1 tub Pecorino Romano
10 medium corn tortillas
1 box linguini
1/3 cup pine nuts
1 1/4 cups white rice
1/2 cup dry white wine, optional

Pantry List:
Honey, acacia or other mild flavored honey or Agave
Cooking spray
Canola or vegetable oil
Extra-virgin olive oil
Bay leaves
Ground cumin
Whole nutmeg
Salt and pepper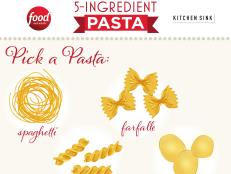 When time is tight, look to these go-to pasta recipes to save the day.