Tuna is a lean, red-fleshed fish that can be served raw (in sushi and sashimi) or cooked. Tuna is sold as steaks or sometimes as a "loin" (a chunk the size and shape of a pork loin) that can be roasted.

There are several different species of tuna, but the most common type at the market is yellowfin. Bluefin, the traditional choice for sushi, is somewhat moister than yellowfin and the fattiest of the tuna species. Both are deep red in color, while albacore tuna is cream to light pink.

Tuna is a good choice for grilling as steaks or kebabs and tastes excellent sautéed or roasted. The tough skin is inedible. Dark areas of meat have a stronger flavor and can be cut off if you prefer. When tuna is overcooked it tends to dry out, so it's best prepared medium-rare to rare.

Similar fish include swordfish, striped bass and mahi-mahi.

Tuna Recipes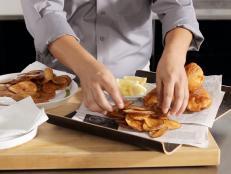 Follow these simple tips and you'll deep-fry like a pro.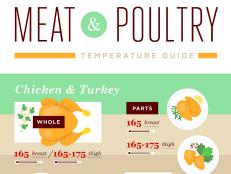 Use our internal-temperature chart to serve perfectly cooked meat every time.