Level:

Easy

Total:

1 hr 15 min
Prep:

5 min

Inactive:

1 hr

Cook:

10 min
Level:

Easy

Total:

1 hr 15 min
Prep:

5 min

Inactive:

1 hr

Cook:

10 min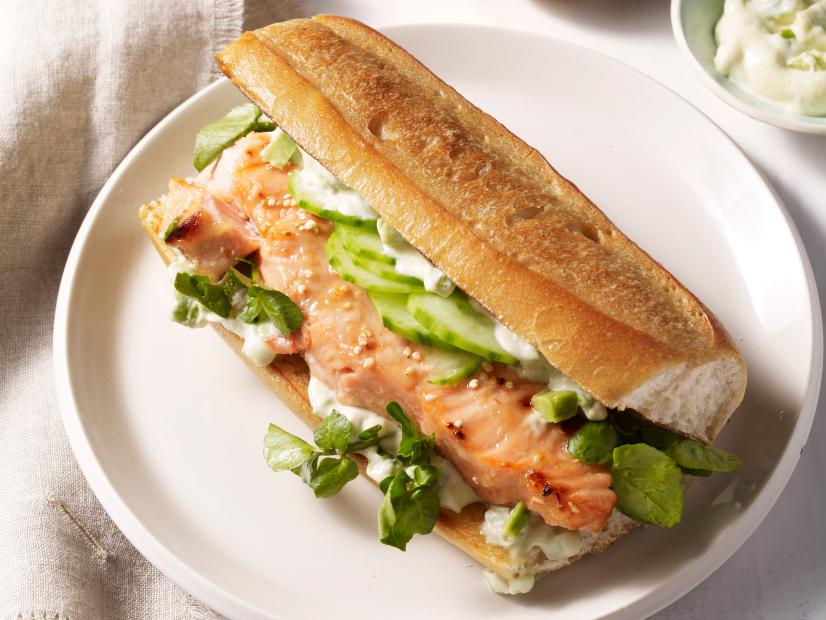 Whisk the mirin, miso paste, brown sugar and 1 tablespoon water in a large shallow dish; stir in the sesame seeds. Add the salmon, turning to coat; cover and refrigerate 1 hour or overnight.
Whisk the mayonnaise, wasabi paste and lemon juice in a bowl. Dice the avocado and stir it into the mayonnaise mixture; set aside.
Preheat the broiler. Arrange the rolls, cut-side up, on a foil-lined baking sheet and broil until lightly toasted, about 1 minute. Remove to a plate and brush the cut sides with the avocado mayonnaise.
Toss the watercress with the sesame oil, soy sauce and some salt; divide among the rolls.
Transfer the salmon to the baking sheet and brush with some of the marinade from the baking dish. Broil until the salmon starts browning, about 3 minutes. Flip the salmon and continue broiling until just cooked through, 3 to 5 more minutes. Divide the salmon among the rolls; top with the cucumber slices. Serve warm.