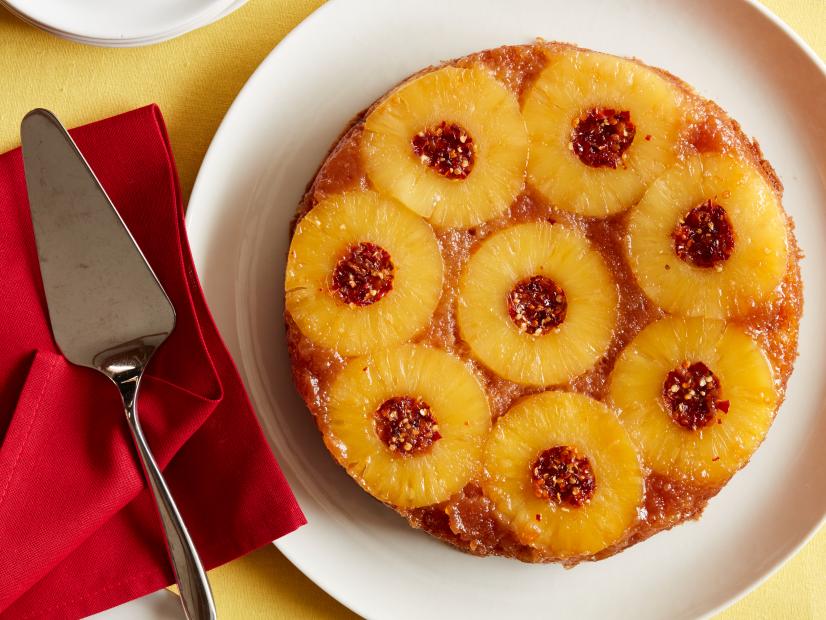 For the caramel topping: Preheat the oven to 350 degrees F. Butter just the sides of a 9-inch round cake pan.
Stir the sugar and 1/3 cup water in a medium saucepan over medium heat until the sugar dissolves. Cook, no longer stirring, but gently swirling the saucepan occasionally until the mixture is the color of light amber, 4 to 5 minutes. (If needed, brush any sugar crystals off the side of the pan with a pastry brush dampened with water.) Remove the saucepan from the heat, and carefully whisk in the butter (use caution; the mixture can bubble up considerably). Pour the caramel into the prepared cake pan, tilting the pan to cover most of the bottom (be careful; the pan will be very hot from the caramel). Lay the pineapple rings in the pan and fill each hole evenly with the chiles. Set aside.
For the cake: Whisk together the flour, baking powder, baking soda, salt and crushed red pepper flakes in a medium bowl; set aside. Combine the coconut milk, buttermilk and vanilla in a small bowl; set aside.
Beat the butter and sugar together in a large bowl with an electric mixer on medium-high speed until light and fluffy, about 4 minutes. Add the eggs 1 at a time, beating after each addition and scraping down the side of the bowl as needed. Reduce the mixer speed to low and add the flour mixture in 3 batches, alternating with the milk mixture and mixing until just incorporated. 
Pour the batter over the pineapple in the cake pan and spread evenly. Bake until the cake is golden brown and bounces back when pressed and a toothpick or cake tester comes out clean when inserted in the center, 50 to 60 minutes. Run a knife around the edge of the cake to separate it from the pan. Let the cake cool in the pan on a wire rack until just cool enough to handle, about 30 minutes. Invert a serving platter over the cake pan and, while holding them together, quickly flip them over so the cake unmolds, pineapple-side up. Let cool completely. Cut into wedges, and serve.
When measuring flour, we spoon it into a dry measuring cup and level off the excess. (Scooping directly from the bag compacts the flour, resulting in dry baked goods.)