Level:

Easy

Total:

36 min
Level:

Easy

Total:

36 min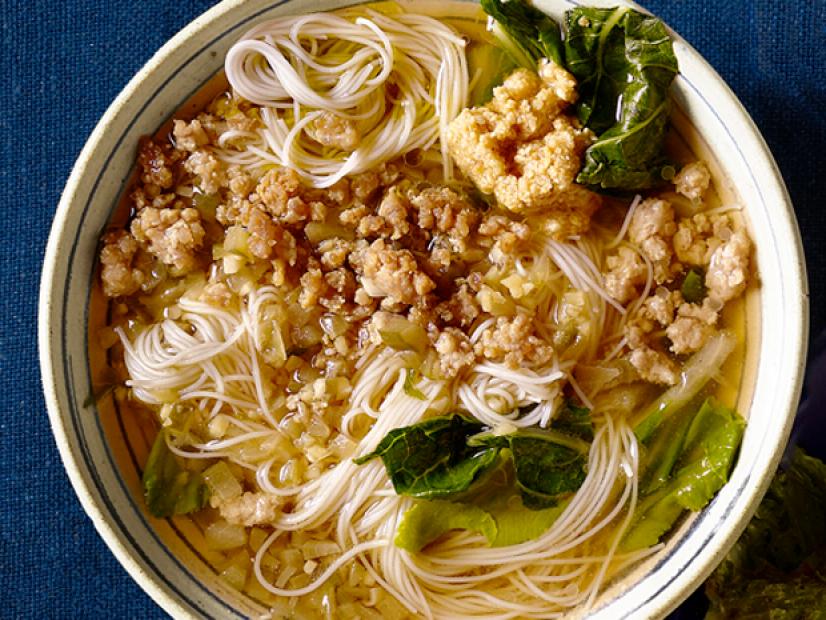 Bring a pot of water to a boil. Pulse the sesame seeds in a mini food processor with 2 tablespoons sesame oil, 1 tablespoon sugar and 1/4 teaspoon salt until powdery; set aside.
Prepare the stir-fry: Quarter, seed and finely dice the pickles and put in a bowl. In another bowl, mix the garlic, ginger, scallions, 1/2 teaspoon salt and the remaining 1/2 teaspoon sugar. Mix 1 tablespoon soy sauce and the broth in a third bowl. Mix the pork with 1 tablespoon soy sauce and 1/2 teaspoon salt in another bowl. Place the four bowls by the stove.
Place a large skillet over high heat. Add 2 tablespoons vegetable oil, then the pork, breaking it up with a wooden spoon, until cooked but not dry, 4 minutes. Transfer the meat to a bowl and toss with the remaining 1 tablespoon soy sauce.
Add the remaining 1 tablespoon vegetable oil to the skillet; stir-fry the pickles for 1 minute. Add the garlic mixture and fry 30 seconds. Add the broth and boil until reduced by half, 4 minutes. Divide the broth among bowls and drizzle with the chili oil and vinegar.
Meanwhile, add the noodles and bok choy to the boiling water and cook until just tender, 2 minutes. Drain and toss with the remaining 2 tablespoons sesame oil. Season with salt, then divide among the bowls. Top with pork and sprinkle with sesame powder. Serve with more sesame and chili oil.