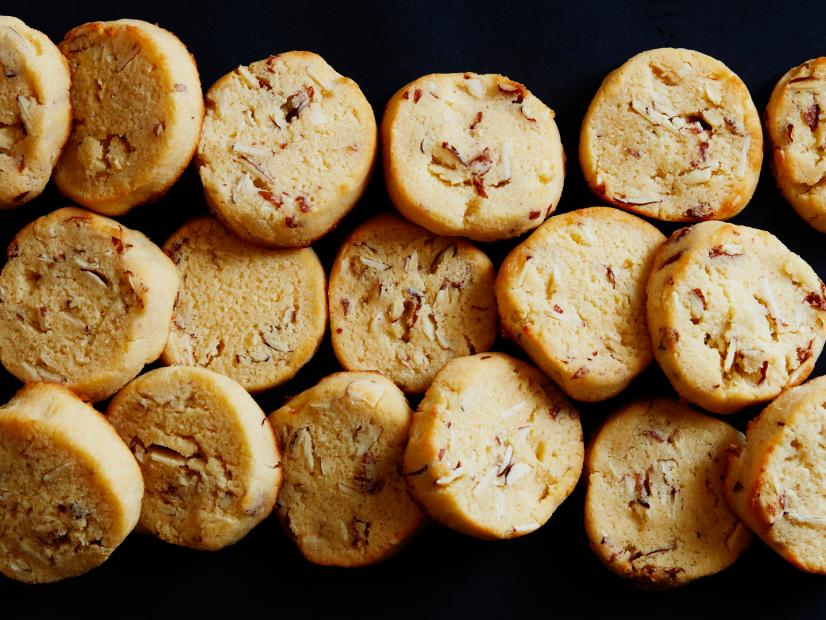 Mix together the almond and coconut flours in a small bowl.
Combine the butter and erythritol in a medium bowl and beat with an electric mixer until light and fluffy, 2 to 3 minutes. Add the cream cheese and continue to beat until smooth, about 1 minute more. Add the almond extract and egg and beat until combined. Add the flour mixture and continue beating until just combined and smooth. Gently fold in the almonds.
Place the mixture onto a piece of parchment or wax paper and, using the paper, mold the dough into a log. Wrap the log in plastic wrap and refrigerate until firm, at least 1 hour. 
Position an oven rack in the center of the oven and preheat to 350 degrees F. Line a baking sheet with parchment. 
Slice the dough into 1/2-inch-thick slices and place on the prepared baking sheet. Bake until the edges are golden brown, 18 to 20 minutes. Let cool before serving; the cookies will firm up as they cool. 
Erythritol, a sugar substitute, can be found in most health food stores or online.