10 Unexpected Things to Make in Your Slow Cooker

The slow cooker's ability to cook dinner while you're away at work is only one of its many merits. Breakfast, lunch, dessert, party food and even holiday gifts are made infinitely easier when left to the gentle heat of a slow cooker.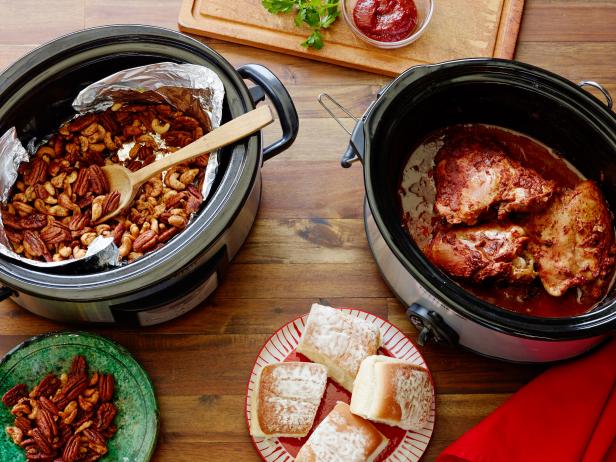 SLOWCOOKER PEPPERMINT HOT CHOCOLATE Food Network Kitchen Food Network Confectioners' Sugar, Unsweetened Cocoa Powder, Whole Milk, Vanilla Extract, Kosher Salt, Dark Chocolate, Peppermint Candies, Mini Marshmallows, Peppermint Schnapps SLOWCOOKER SPICED NUTS Food Network Kitchen Food Network Maple Syrup, Unsalted Butter, Cinnamon, Orange Zest, Kosher Salt, Cayenne Pepper, Pecans, Cashews SWEET AND TANGY SLOWCOOKER BBQ TURKEY THIGHS Food Network Kitchen Food Network Dried Cranberries, Cider Vinegar, Honey, Ketchup, Tomato Paste, Paprika, Mustard, Garlic, Onion Powder, Kosher Salt, Black Pepper, Turkey Thighs SLOWCOOKER SWEDISH MEATBALLS Food Network Kitchen Food Network Beef Broth, Worcestershire Sauce, Pork, Turkey, Breadcrumbs, Eggs, Allspice, Onion Powder, Kosher Salt, Black Pepper, Unsalted Butter, Flour, Sour Cream, Lingonberry or Red Currant Jelly, Flatleaf Parsley SLOWCOOKER STICKY TOFFEE PUDDING Food Network Kitchen Food Network Pitted Dates, Whole Milk, Baking Soda, Flour, Baking Powder, Salt, Pumpkin Pie Spice, Light Brown Sugar, Unsalted Butter, Eggs, Orange Zest, Cooking Spray, Light Brown Sugar, Heavy Cream, Nutmeg
Matt Armendariz, 2014, Television Food Network, G.P. All Rights Reserved
1: Steel-Cut Oatmeal: Enjoy the superior texture of steel-cut oats without any extra work. Right before you turn in for the night, fill the bowl with a 1:4 ratio of oats to liquid. Add dried fruits or sweeteners to your liking, put your cooker on low, get your beauty sleep, and dig in.
2: French Toast Casserole: Cube up some bread. Cover in a blended mixture of milk, eggs, sugar, cinnamon and salt. Stir in some fruits if you want. Turn your slow cooker to low. Sleep. Wake up to a breakfast that's equally welcome on a lazy Saturday or a Wednesday morning.
3: Frittata: Take any vegetables and meat you may have left over from dinner. Chop them into bite-size pieces, whisk into eggs (account for 2 to 3 eggs per serving), season with salt and pepper, and cook until set.
4: No-Stir Risotto: Make your favorite risotto while keeping your hands free. Heat some oil in a skillet over medium heat, soften your vegetables, toast your rice and dump everything into your slow cooker. Add the liquid, cover and cook on high until the rice is tender, then stir in some freshly grated Parmesan to finish.
5: Chicken Dinner: Season a whole chicken with your favorite spices, lay it in your slow cooker over a bed of onions and cook until the meat falls off the bone. Eat to your heart's content, save any leftover meat for future meals and hold on to the bones for...
6: Overnight Chicken Stock: Fill your slow cooker with the bones from your whole chicken and add some carrot, onion, parsley stems and enough water to cover. Cook on low overnight and wake up to a delicious, multipurpose chicken stock.
7: Taco Party: Next time you're serving tacos, wrap up a generous stack of tortillas in a damp towel and keep it in a covered slow cooker set to low. Your tortillas will stay warm and pliable, and there will be no running back and forth to the microwave when someone asks for seconds.
8: Spiced Nuts: Use your slow cooker to make sweet and spicy nuts. With the lid on, it's the perfect temperature to melt your favorite combination of sugar and spices into a glaze; then, remove the lid and the glaze dries perfectly and evenly on the nuts. A bonus is that it'll make your house smell incredible.
10: Apple Butter: Fill your slow cooker with peeled, thinly sliced apples. Add sugar to taste and a pinch of warming spices like cinnamon, nutmeg and cloves. Cook on high for 1 hour before turning it down to cook on low overnight, then jar it up and distribute to loved ones (or eat it all yourself). Check out the recipe here.