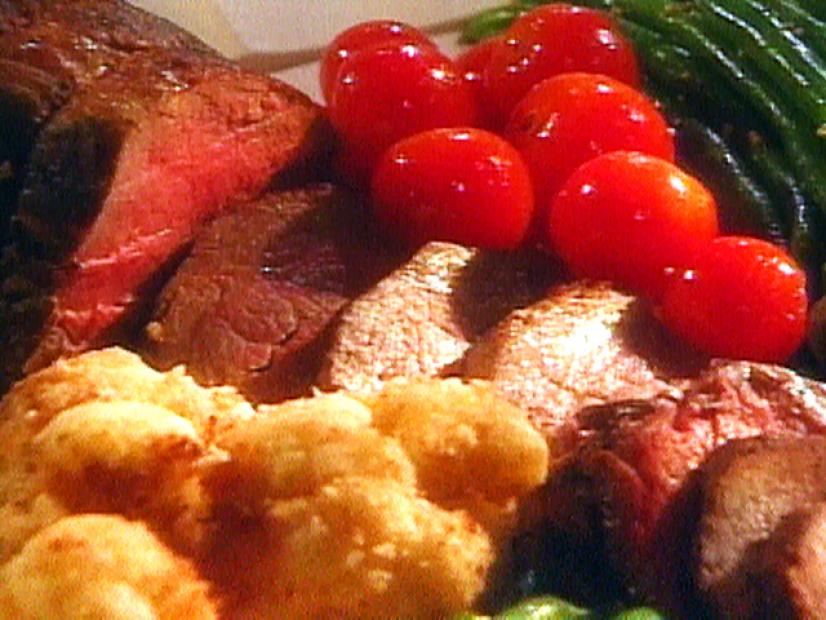 Make the Beef and Sauce: Preheat the oven to 450 degrees F. and season the tenderloin with salt and pepper. Heat the oil in a large skillet over medium-high heat until almost smoking. Add the roast and cook, turning often, until browned on all sides, 5 to 7 minutes. Transfer the skillet to the oven and roast for 25 to 30 minutes or until a meat thermometer inserted into the center registers 130 degrees F for medium rare. Transfer the roast to a warmed platter and cover loosely with foil. 
Place the roasting skillet on top of the stove, being careful not to touch the hot handle with bare hands. Add the wine, shallots, and dried tarragon and bring to a boil over high heat. Cook rapidly, stirring to pick up any browned bits in the bottom of the skillet, until reduced to 1/4 cup. Add the cornichons, cream and any meat juices that have accumulated on the platter. Simmer for 3 minutes longer. Reduce the heat to low and whisk in the butter, mustard, fresh tarragon, and salt and pepper, to taste. Cut the beef crosswise into 1/4-inch thick slices. Decoratively arrange the beef, sauce, and garnish on a large platter. Serve hot or at room temperature. 
Green Beans with Red Onion and Mustard Vinaigrette:
Heat 1 tablespoon oil in a heavy skillet over moderate heat until hot but not smoking, then cook mustard seeds, stirring, until they pop and are 1 shade darker, about 2 minutes. Transfer oil with seeds to a large bowl. 
Simmer vinegar and sugar in a small saucepan, stirring, until sugar is dissolved, then cool 5 minutes. 
Heat remaining 2 tablespoons oil in cleaned skillet over moderately high heat until hot but not smoking, then cook onion, stirring, until golden brown, 8 to 10 minutes. Remove from heat and stir in vinegar, then add to mustard oil in large bowl. 
Have ready a large bowl of ice and cold water. 
Cook beans in a pot of boiling salted water until crisp-tender, about 5 minutes. Drain in a colander and plunge into ice water to stop cooking, then drain well. 
Toss beans with vinaigrette and salt and pepper, to taste. Serve at room temperature or chilled. 
A special occasion dish calls for a special occasion wine. Match your succulent roast tenderloin with the best medium/full-bodied red in the house.