Carrie McCully is on the hunt to fill executive chef positions in restaurants across the country.

Carrie McCully is the principal of Force of Nature Media, a boutique-consulting firm that specializes in recruitment and placement of culinary professionals in the United States. Carrie found her niche 15 years ago in New York City when friends who owned restaurants and clubs began asking for advice about servers' uniforms, designs, menus and marketing and for help with finding talented new chefs from her vast network of connections. Soon she realized that her passion for fine food, design and thinking outside the box, along with her innate skill of balancing tradition with foreseeable trends, was her career calling. Over the years Carrie has had the privilege of working with some stellar forces, including Alain Ducasse, Terrance Brennan, Martha Stewart, Alison Price Becker, The Museum of Modern Art and Kathryn Bigelow, among others.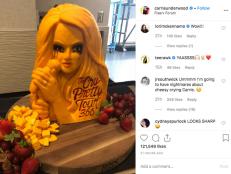 Whether cute or creepy, it's certainly unique!