Food Network Messenger Chatbot
Now you can find recipes instantly by chatting with our new bot on
Facebook Messenger
. Search by ingredient, chef, emoji and more. No download required — just strike up a conversation with Food Network.
How Does It Work?
The Food Network chatbot can immediately help you find recipes whenever you need them — whether you're looking for a meal idea at the grocery store, getting relevant menu suggestions while waiting in line or browsing recipes from Food Network shows and chefs while on the train.
Simply chat with our bot like you would with any food-loving friend. You can ask for recipes in a variety of ways — by ingredient, meal type, your favorite chef or show — and the Food Network Messenger Chatbot will send you options within moments, searching our library of over 60,000 recipes. Just ask!
In need of some kitchen inspiration? You can browse our extensive collection for the perfect recipe, from the shows and chefs you love, to seasonal recommendations from our editors. Our "Recently on TV" set will come in handy when you see something delicious on your television. Or if you know you won't have much time to cook, swipe through our "Quick and Easy" recipes. Maybe you're wondering what everyone else is up to in the kitchen, in which case you can peruse our "Most Popular" recipes.
How about something a little different and fun? Try our "Surprise Me" feature, which offers something new each day — recipes, tips and even food trivia — hand-picked by the team here at Food Network.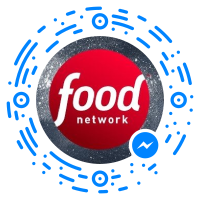 Or scan the code from your Messenger app!
Find Our Chatbot on Facebook Messenger
Simply search for "Food Network" within Facebook Messenger and start a chat, or click here:
Strike Up a Conversation
Here are some things you could ask our bot:
"Quick chicken recipes for dinner"
"Easy holiday sides"
"Easy pork recipes from Bobby Flay"
"Ina's brussels sprouts"
"Something for brunch that uses asparagus"
"What can I make with potatoes and leeks?"
"What easy dessert recipes do you have?"
"Give me a chili recipe from Pioneer Woman"
"Birthday [cake emoji]"
"[pizza emoji]"
Or type "Surprise me" for a new recipe every day!
If you have comments, questions or suggestions for the skill, reach out to us at our customer service form. We'd love to hear from you.
Happy chatting!