Pillsbury Bake-Off® Contest: Appetizers for Any Party Category Winner
Recipe:
Toasted Spinach Pesto Ravioli
My mother has been entering the Pillsbury Bake-Off Contest for as long as I can remember. I continued the tradition beginning about 15 years ago. In fact, when I call to check on my almost 85-year old mom each day, we greet one another by saying "Good Mornin', Pillsbury!" So here I go again.
My family loves anything with spinach. Spinach on pizza, in eggs, on appetizer breads just about anything with spinach, we think, takes it up a notch. A favorite appetizer of ours is a bread loaf carved out in the center and filled with spinach and melted cheeses. We serve it with a tomato sauce dip. So, I thought, why not something with a similar taste?
Instead of the Pillsbury French bread, the Crescent Dough sheets would allow me free rein creatively, so with half dozen crescent dough cans in hand, I went to work. I finally settled on ravioli, but how and what to do with it? It had to be unusual, easy to do and tasty. Panko bread crumbs are another family favorite because of the crunchy texture. I usually pan fry chicken or fish with panko, why not dough? Baking was the healthier, more interesting option and I decided, that was it: toasted ravioli with a spinach and cheese filling, pesto to give it zing and marinara dipping sauce to give it a nice finish, yum!
The Pillsbury Bake-Off Contest period is a really exciting and fun time in our family because everyone tries the creations and gives their opinions. The main taste tester, my foodie husband, gave it a thumbs up! So, it's one more for the Pillsbury Bake Off Contest and the tradition carries on.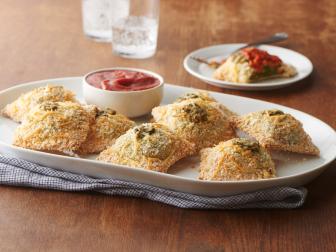 Stuffed with pesto, spinach and cheese, crisped to perfection, and ready to be dunked in marinara, these Toasted Ravioli are the kind of appetizer that win people over in one bite!