Pillsbury Bake-Off® Contest: Cozy Breakfasts Category Winner
City/State:
Zionville, NC
Recipe: Bejeweled Cranberry-Orange Rolls

My mother was born in 1925 and was never a fancy or adventurous cook. We had the same meal for every holiday, whether it was Thanksgiving, Easter, or Christmas. She never wavered for fear of familial uprising! Those meals together were unforgettable.
One thing that was always on the holiday table was the cranberry congealed salad. It was a familiar mixture of chopped fresh cranberries, orange, celery, pecans, pineapple and jello; we devoured it. (My husband may have even married me because of it.) I have a handwritten notebook of recipes, and on the cranberry-stained, well-used page that holds this one, at the top it reads "Called Mama every year (for the recipe). Wrote it down Thanksgiving 2000."
We were not a family of convenience foods. "Having" to eat homemade food at every meal, I thought of canned spaghetti and frozen dinners in aluminum trays as treats! One year, though, we were visiting my sister and she had bought Pillsbury orange rolls for breakfast. They were so different from anything I had ever had (this was way before the gourmet cinnamon roll craze) and I loved them. Apparently so did my mama, because fairly often after that they would show up in our fridge at home. They were a convenience food my mom took a liking to, and eating them takes me back in my mind to our kitchen table on mornings before school.
In my recipe, the cranberry, pineapple, walnuts and ginger perfectly punctuate and complement the orange rolls. Yes, these rolls are "just food", but can food not, with its profound taste and olfactory power, send us in an instant back to a place of familiar and immediate happiness in our hearts? Yes.
A later entry on the cranberry salad recipe page reads: "December 24, 2010: Didn't make (the salad) for Thanksgiving this year. This is the second year without Mama and Daddy. I miss them terribly, but every motion during the holidays makes me remember them in happy, vivid detail." I will cook these rolls and remember...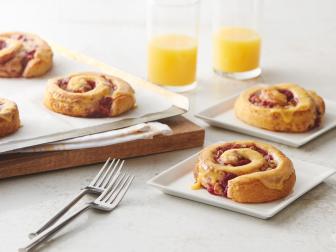 Say hello to our new favorite way to make Pillsbury™ Cinnabon™ Orange Rolls™ with jeweled-toned cranberries, sweet pineapple, ginger and walnuts for crunch. Just try not to love them!