Pillsbury Bake-Off® Contest: Dinners with Heart Category Winner
Recipe:
Oktoberfest Pizza
My fiancé always asks me to make kielbasa, but I have absolutely hated kielbasa until recently. When I was a little kid, my grandmother used to make a kielbasa dish with peppers, tomatoes and savory cornbread. Blech! I really did not like it and decide that I did not, and would not like kielbasa—ever! (Classic 6-year old, am I right?).
After saying no so many times to cooking kielbasa for my fiancé, I felt bad and wanted to compromise. I figured, I'm not a kid anymore and if I don't want to finish eating what I make, I don't have to.
I decided to add kielbasa to the one food I love a lot and make a lot: pizza! It has been a hit with us ever since, but any time I go for an extra slice my fiancé reminds me in his cute way that I don't like kielbasa. I wish I could share my pizza recipe with my grandmother; I know she would've loved it!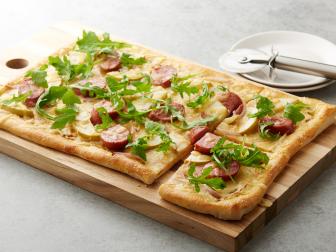 Pizza meets Oktoberfest classics in this creative (and easy!) dinner that uses kielbasa, smoked gouda and green apples on a pretzel-like crust. One taste and you'll be hooked—trust us.