Pillsbury Bake-Off® Contest: No-Fuss Desserts Category Winner
City/State:
San Mateo, CA
Recipe:
Cookies and Cream Caramel Layer Bars
This is a fun twist on a nursery school bake-sale favorite. When I was raising small children, we were part of a co-op preschool where the parents were always present and the kids always got messy! As part of our on-going efforts to raise money for the school, we had bake sales, auctions and theme parties each requiring donated sweet treats.
I have always loved to bake and never missed a chance to experiment in the kitchen. This recipe has been tweaked many times over the years. I've made these with different bases, nuts and all flavors of candy depending on my mood and what I have on hand. Desserts bars are always a hit with kids and adults, and mine are easy, pretty and delicious!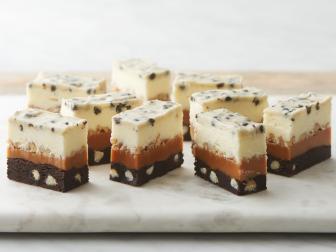 You've never seen Pillsbury cookies do this before! These decadent layered bars combine candy bars, caramel and pecans for a dessert our Bake-Off™ Contest judges gave two thumbs up. (We bet you will, too!)