Star Salvation Exclusive: Alex Dishes on Her Mentoring Style and What It's Like as a Food Network Star
Zac Hahn, 2016, Television Food Network, G.P. All Rights Reserved
Hosts Eddie Jackson and Alex Guarnaschelli in elimination for the Leftovers Love challenge, as seen on Star Salvation for Food Network Star, Season 12.
You hear from Alex Guarnaschelli in her weekly Star Reports, where she breaks down the Food Network Star competition like only a veteran judge can. Now, starting this Sunday night after the all-new episode, she and Eddie Jackson, last year's winner of Star, will join forces to judge Star Salvation. Together they'll challenge this season's ousted finalists to both camera and cooking tests over six weeks in the hopes of finding one hopeful worthy of re-entering the Food Network Star competition.
We caught up with Alex to find out what skills she'll be looking for in the eventual winner and learn her approach to mentoring the competition. Read on for an exclusive one-on-one interview with her.
What do you need to see in them in terms of camera skills and cooking chops in order to find your winner?
Alex Guarnaschelli: I'll tell you the No. 1 thing is that I have to believe them. I think that it's really, really hard to let your nerves go and to say, "Wow, maybe what I'm saying isn't exciting enough, or I should be doing this or that and just putting it out there." Sometimes when you just honestly and transparently admit what's going on around you and relate it to how you live your life, that's actually the stuff that separates you from the pack because people aren't able to do that.
Everyone who's competing has had a bad day, either in the kitchen or on camera. Somewhere there's been a flop. Which part of the job do you think is harder: mastering the cooking or presenting effortlessly?
AG: I think that mastering the cooking and presenting effortlessly, they go hand in hand. I've always thought of Bobby as the mastering the cooking [person] and Giada as presenting, and that the combination of the two of them makes up an ideal Food Network Star. I mean, they're great on their own.
I think that the problem is, if you mess up your cooking, you're thrown off by that, and when you go to present you can feel that in the presentation. Now, viewers at home, they can't chew, they can't eat what you're making, so I guess if I had to pick in a television context, I would pick the presentation as more important. If you have a bad day and you can hide it, be true, be honest, put yourself forth with a lot of energy, you can overcome [poor food].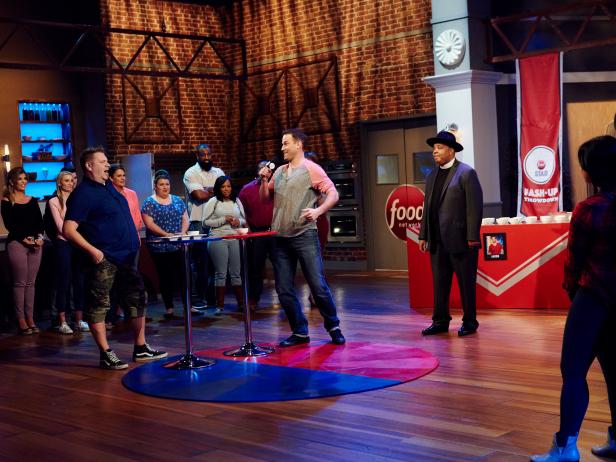 Guest Judge Rev Run with finalists Damiano Carrara, Joy Thompson, Ana Quincoces, Melissa Pfeister, Monterey Salka, Jernard Wells, Yaku Moton-Spruill, Tregaye Fraser, Martita Jara, Erin Campbell, Aaron Crumbaugh and Rob Burmeister during evaluations for the Star Challenge, as seen on Food Network Star, Season 12.
Eddy Chen, 2016, Television Food Network, G.P. All Rights Reserved.
Guest Judge Rev Run with finalists Damiano Carrara, Joy Thompson, Ana Quincoces, Melissa Pfeister, Monterey Salka, Jernard Wells, Yaku Moton-Spruill, Tregaye Fraser, Martita Jara, Erin Campbell, Aaron Crumbaugh and Rob Burmeister during evaluations for the Star Challenge, as seen on Food Network Star, Season 12.
So many finalists let nerves get the better of them. Do you have any advice for finalists in terms of putting them aside and getting the job done?
AG: You know, the interesting thing about Star Salvation is you've already been eliminated from the show. You've already felt what it feels like to be told, "Hey, look, you don't have the chops to get to the end of this road." When that happens to you, you have a moment where you give up hope. And sometimes when you give up something good like hope you also give up a lot of luggage that gets in the way of winning. And this is a great place for people to say, "Hey, do I really want this?" [and] take a personal internal inventory of their feelings and put the better side out there.
Some compare this competition to therapy in that it can be very intense and introspective.
AG: It's intense for us. Eddie and I are mentoring on the fly — we're taking the express bus. Bobby and Giada are on the local. We don't have a lot of time to really get to know them and see if it's worth going that extra step with them.
How would you explain your style of mentoring, your approach?
AG: I like to provoke. I like to provoke a little bit and try to get that maximum energy by just pushing somebody off of the diving board and into the ocean. What's the worst that's going to happen? You're going to get wet?
Let's hope you can swim, right?
AG: Yeah, I mean, there's a lot of fish in the ocean. There's a lot of stuff — you know, crappy weather, hungry fish. But what's better than that? You just want to be a spectator on the ship of your life?
Eddy Chen, 2015, Television Food Network, G.P. All Rights Reserved
Guest Judge Alex Guarnaschelli and Mentor Giada de Laurentiis during the Star Challenge, Savory Baking, as seen on Food Network Star, Season 11.
What's it like working with Eddie in this role? It was only a year ago you were judging him in the second episode of his own season of Food Network Star.
AG: Eddie and I bring two totally different things to the table. One, I thought he was a winner when I was here last year and I saw him. He's also very easy on the eyes, which doesn't hurt. Eddie has that fresh perspective having just lived it. ... I have been on many different types of shows — competition shows, daytime cooking shows — I know what a lot of different contexts are like. I know all the different things you can get thrown at you when you're on Food Network. And I want to just get them sort of ready and in fighting form to anticipate anything.
Are you bringing any takeaways from your experience judging Star Salvation last year to this year's competition?
AG: No. The obvious answer is yes. The answer is no. Every year it's a different thing. It's a blank slate. I want to see what they bring, I want them to fill my head with their ideas. ... I don't want to think about history. You're only as good as the dish you made this morning.
Everyone here is competing for the job of Food Network Star. You know the job because you're living it. How would you explain what it's like to be a Food Network Star?
AG: Well, when I think that I have actually become one, it will probably be my last day on camera. So that would be my first thing, is why look at yourself like that? Why not look at yourself as someone who's living life and has the privilege of bringing those outside experiences and perspective onscreen? That's a great privilege, to share anything you think or see through your own eyes. I never take that privilege for granted, any day that I show up on a set.
What's the best piece of advice that you've been given, be it from one of your own mentors or otherwise, about what it takes to do this job well?
AG: I don't know. I always harken back to Bobby.
The Pope, right?
AG: I named him the Pope. A lot of people call him that now. The first day I showed up to shoot a show called Alex's Day Off, he said to me, "What are you wearing?" And I said, "What wardrobe gave me." And he said, "Well, there's your problem." And I thought: "Oh. What just happened?" And he said: "How are you going to cook what's true and make what's true if you're not wearing what you want to wear, the way you want to wear it, your hair's not how you want it? That's how you get to the true place." And I thought [gasps]" ... Who would have thunk a T-shirt and a ponytail might just be the way?
What's been your greatest key to success in being a Food Network Star?
AG: I've had the good fortune of cooking professionally for many years before I ever was filmed cooking on television, and that experience has been priceless. I think if I hadn't come to the table knowing how to talk about food, 'cause I love it so much, and knowing how to cook, I don't know what I would have been capable of, probably far less. But I never take those skills for granted. I'm always working on making sure they only get better and different, and I'm always trying something new, pushing boundaries with myself, not sitting still. I read less hate mail. And I meditate more.
Star Salvation premieres Sunday night, immediately following the end of the new episode of Food Network Star, which airs at 9|8c.