An oil obtained by pressing sweet almonds. French almond oil, huile d'amande, is very expensive and has the delicate flavor and aroma of lightly toasted almonds. The U.S. variety is much milder and doesn't compare either in flavor or in price. Almond oil can be found in specialty gourmet markets and many supermarkets.

From The Food Lover's Companion, Fourth edition by Sharon Tyler Herbst and Ron Herbst. Copyright © 2007, 2001, 1995, 1990 by Barron's Educational Series, Inc.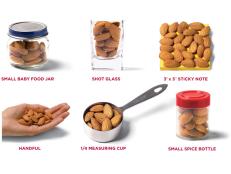 One serving of almonds equals 23 nuts, but if you're not one to count up your snacks, use this visual guide to help you control portions.